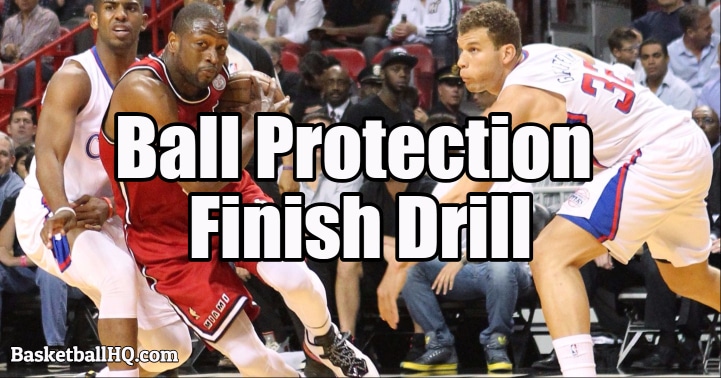 Being able to make an explosive move to the basket is just one part of the equation. You must also be able to protect the ball against an on-ball defender and any help defenders that may try to get their active hands in the play. You must be spending time working on ball protection when working on finishing around the basket.
This basketball drill will work on protecting the ball against an over-aggressive defender and a help defender that doesn't quite get all the way in the help to take a charge but is looking to strip the ball as you drive to the basket. Being strong with the ball is a basketball fundamental that every player should be mastering.
Basketball Drill Overview
Drill Name: Ball Protection Basketball Finish Move
Equipment Needed: 1 basketball, dummy defender (optional).
Similar Basketball Drills and Resources
Goals of the Drill
Coaching Points
Bring the ball over top with both hands to remain strong on the move.
Feel the defender's weight against you and when you feel that their momentum is making them out of control, use your body to step across and change the angle and finish.
Basketball Drill Instructions
This basketball move is going to be used in two types of situations.
The first is against an on-ball defender, and the second is against a help defender reaching in.
Against an on-ball defender that is beat but staying connected on your hip, you will feel their body weight against you.
When you get to the spot on the floor that you want, you will change direction, bring the ball over top with both hands, put the defender on your back, and then finish at the basket.
With the help defender, you will recognize that they are stepping up in the gap but are still allowing a small space to sneak through.
You want to bring the ball up over top with both hands to prevent the help defender from having a chance to strip the ball.