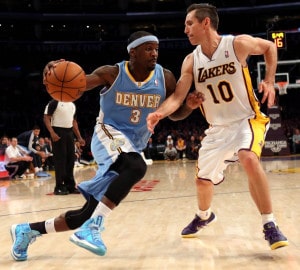 Footwork is a big part of the game of basketball, and if you can train yourself to have quick feet and also have the right technique, you can really improve your game. So for this basketball training plan there are going to be several different basketball workouts that are going to focus on your footwork and agility. When you do those drills you really want to try and improve your quickness each and every time. Push yourself to go quicker each time. Also when you are doing the basketball shooting drills make sure that you are stepping into your shot the right way every time.
If you are not used to doing the wall tennis ball drills that is okay because you want to be able to challenge yourself. Just focus on doing your best at the start, and lock in on each ball. Really try to improve your hand eye coordination. This is just one of the multiple basketball training plans that you can add to your training schedule.
Focus Points
Stay light on your feet and move as quickly through the cones as you can on the quick feet drills. Really work on your footwork and quickness. 

Shoot every shot at game speed and stay in your shot until you make or miss.
Learn to make shots even when you are tired.