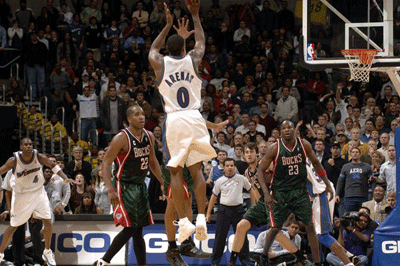 At a loss for how to instill confidence in your basketball players? Confidence comes with repetition. All good shooters have the confidence that each shot they attempt will go in.
10,000 Hours
I recently heard an NBA coach speak at a basketball coaching clinic, and he said that it takes 10,000 hours of practice to become a master of something.
Think about that.
To become a master at something, someone would have to spend 3 hours a day for 9 years practicing without taking a day off. That may seem like a lot to many, but I recently had the privilege of being able to witness first hand the time one takes to become great.
Gilbert Arenas
The Washington Wizards started their training camp this past week, and they begin practice at 10:30 am each day. At 7:30 am, Gilbert Arenas was out there doing basketball drills to work on his shot with one of the coaches. That is 3 hours before practice starts!
He continued to get shots up until 9:30 am and then went in to see the trainer to get taped and to receive treatment.
The Wizards actually practiced twice that day, and I was curious if it was just a morning thing for Arenas or if this was his typical routine. Their 2nd practice began at 6 pm, and Arenas was once again out there shooting jumpers and working on his ball-handling at 3 pm.
Dreaming vs. Doing
To me, this dedicated unfailing repetition demonstrated by Gilbert Arenas is what clearly separates those who dream about being great and those who actually put in the time and sacrifice to be great!