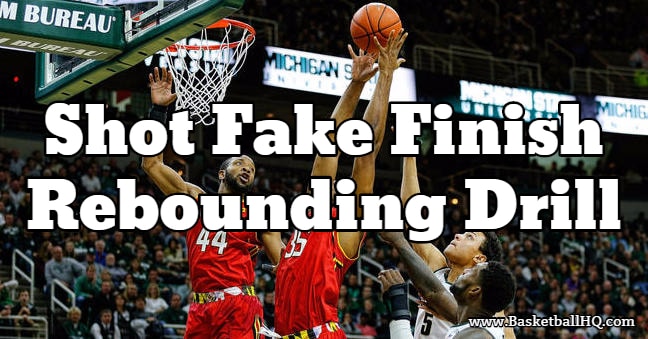 Becoming a great basketball offensive rebounder takes timing and a good nose for the basketball. If you can figure out where the basketball will go before everyone else and then be able to position yourself to get it, you put yourself at a great advantage. The goal of this rebounding basketball drill is to help develop your reaction speed to an offensive rebound.
Basketball Drill Overview
Drill Name: David Thorpe Shot Fake Finish Basketball Rebounding Drill
Equipment Needed: 1 basketball.
Similar Basketball Drills and Resources
Goals of the Drill
Learn how to track down offensive rebounds and finish with defenders around you.
Coaching Points
Track down the ball and go get it at its highest point.
Chin ball, and don't bring it down to your waist where it could potentially get striped.
Sell your shot fake with your body, head, ball, and eyes.
Visualize the defender jumping.
You can vary your finishes around the basket; left hand, right hand, both hands, scoop, etc.
Basketball Drill Instructions
To start this basketball drill, you will begin at the free-throw line with the ball and throw it up off the backboard.
Run and jump to rebound the ball at its highest point.
Grab the ball and chin it as you land.
Pretend there is a shot blocker on you and shot fake before finishing at the basket.
Repeat for 8-12 reps.