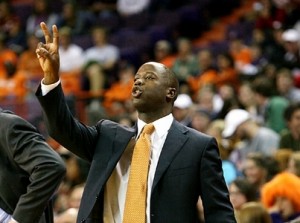 Earl Grant is an assistant men's basketball coach at Clemson University and he has been there since 2010. Before that he coached with Greg Marshall at Wichita State. He is a great college basketball recruiter and has been fortunate to learn from one of the best college basketball coaches in the game today. These basketball coaching clinic notes were taken from the Rising Coaches Conference in 2010.
Notes
You never know who is watching you & paying attention
How do you treat people?
Your presentation is essential/crucial
This is a profession, we are professionals
We need to learn how to grind
You are going to get told "no" a lot, get use to hearing it, but never settle for it
Keys to getting jobs: meet with your assistants & bust your ass for them
They are always watching you!
Work for people who let you grow as a person and coach
Look for loyal people, good people, and hard workers to associate yourself with This is a "people's business"- network! Learned from Greg Marshall:
hold people accountable for little things.
Coach Marshall insisted that his assistants blow the whistle and coach in practice.
Have an acute attention to detail
How can you make the next jump?
You will be surprised with who is watching you
More people can hurt you than can help you
Best way to move up is to get your Head Coach (HC) an extension by winning
Work hard and don't spend time looking for jobs; just work hard!
Connect the dots with recruits
Who deals with that recruit the most
Get  to know everyone associated with the recruit
Put a fence around a kid & know who surrounds him
Get information and USE that information
Start early on kids because it takes time
Initiate conversations with your relationships
When recruiting at AAU tournaments, watch the games.  There is a time (night) to socialize with your peers