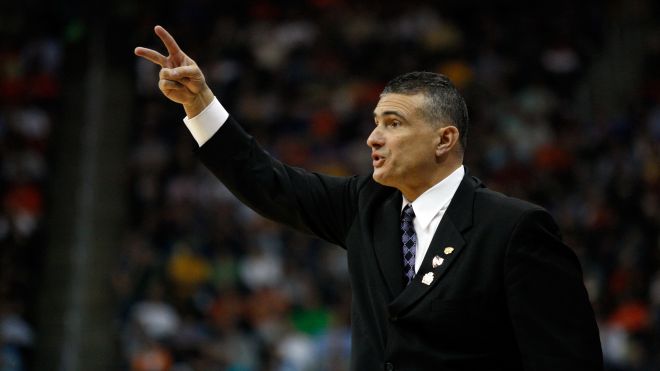 These clinic notes are from when Frank Martin spoke in 2014. Coach Martin is the head men's basketball coach at the University of South Carolina, and is in his 3rd year with the program. Before coming to South Carolina, Frank Martin coached at Kansas State University for 5 years. Coach Martin has also spent time at Cincinnati University and at the high school level as well.
Does not like Trapping on Defense
He does not like rotations or closeouts that players must make to trap
Wants to be aggressive while being disciplined in his defense
Does not want the other team to score within the timing and flow of their normal offense
Wants you to speed up and play 1 on 1 off of the dribble
"No 3's, No Layups, Tough 2's"
Feels that if the offenses first pass is difficult, than their next pass will be more difficult
For Offense Rebounding purposes his 3, 4, & 5 must get to the opposite block of the shooter. 1 & 2 must fill each elbow.
Spends 15-20 minutes everyday working on 1 on 1 drills
Any guy who messes up or is fighting the culture he is trying to create through practice, he normally doesn't deal with. He sends the guy over to the strength coach for running/discipline
He calls the White Line, Mid-Line the DUMB A** LINE- that way if his players are not on it he ask them what they are. He says his players don't like to call themselves dumb a**es
Biggest mistake players make on defense is getting closer to their man when he starts to move and not staying on the line up the line
In college players are good enough that they are going to get the ball. The defense must make sure that their man does not catch the ball squared up facing the rim. Force the catch back 2-3 feet from where they want, keep them off balance, make the offense post from the guard spot and catch the ball with their back to the basket. All of this slows them down just a bit taking them out of their normal flow
Does 4 vs 4 shell everyday
Early on they only worked on guarding cuts and dribble drive using their principles
Later they will put some of the other teams concepts in for the offense and the defense will work shell guarding that
On baseline drive he rotates with the nearest weak-side guard to the baseline. That way no guard ever has to rotate down to block out a big
Help guy under no circumstances can ever get beat or he is coming out
Uses 2-red shirt football players early in the season to set screens. That way his guys see how to set them and guards learn how to get through anything.