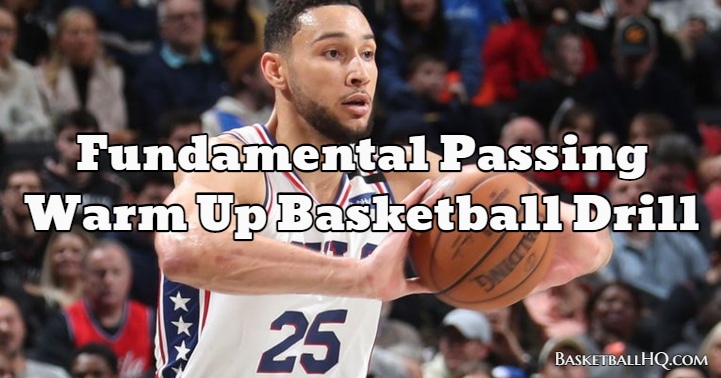 Passing the basketball is an underrated skill that is not always emphasized when it comes to skill development. It is an important skill and can add a lot of value to a player's game and a team's success. Becoming a good to even great passer starts with touch, which is precisely what this basketball drill will work on.
This basketball passing drill is an excellent warm-up drill that can be done before practices or workouts and will help develop passing touch. The drill will go through many different types of passes, and all of them will help develop touch. Even if you aren't a primary passer, this drill is still great for developing overall touch when catching and controlling the basketball.
The better players are able to individually pass, the better your team's offense will be, and the more ball movement there will be. Also, if a player is more confident passing, they will be less likely to throw errant passes and commit turnovers.
Basketball Drill Overview
Drill Name: Fundamental Passing Warm Up Basketball Drill
Equipment Needed: 2 Players and 2 Basketballs.
Similar Basketball Drills and Resources
Goals of the Drill
Work on passing with either hand and developing touch.
Develop confidence executing a number of different types of passes.
Get a lot of quality passing repetitions in a short period of time.
Develop touch and hand eye coordination.
Coaching Points
Players need to execute quality passes that are on a straight line and not looping.
As the drill gets going, the players need to get into a rhythm and push the pace.
Players need to get out of their comfort zone and not be afraid to mess up.
Basketball Drill Instructions
Players will stand facing each other 7-8 feet apart, and each player will have a basketball.
The players or a coach will determine the type of pass, and then both players will execute it at the same time.
The types of passes could be a one-hand push pass, one-hand bounce pass, chest pass and bounce pass (players will alternate who executes what pass), behind the back pass, etc.
The drill will last for a set amount of time or repetitions, and breaks can be taken between each type of pass if needed.