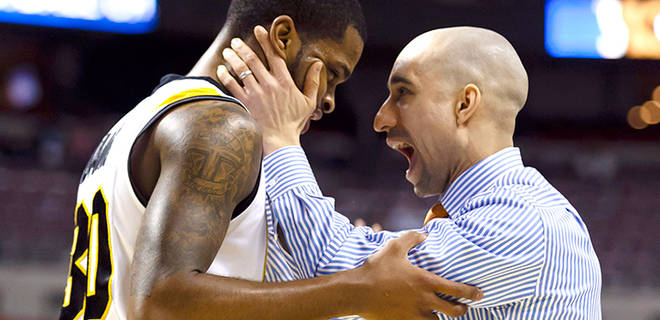 This group discussion was let by Travis Ford of Oklahoma State University, Shaka Smart of Virginia Commonwealth University, and Brendan Suhr of Coaching U. The discussion is about finding and coaching your team leader and also coaching the modern player. There is some really good insight from all three of these coaches and is a must read for any coach that is involved in the game of basketball today. These basketball coaching clinic notes are from the 2010 Florida Coaches Clinic and were compiled by Mark Daigneault.
Finding and Coaching your Team Leader/Coaching the Modern Player
Coach Suhr: NBA comes down to two things: 1. Basketball 2. Leadership
Are your leaders your best players?
Were you one of the best players when you played?
Are you taking care of the potential leaders that are not your best players?
Who picks the captains of the team?
Coach Ford gives a questionnaire to his team and gets their input, but will ultimately make the decision as to who his captains are. Will also confer with the strength and conditioning coach
Coach Smart meets with potential leader of his team once a week. This is an informal meeting where he lets his guys talk. He also allows them to run captain practices once a week in the offseason
Will also meet with potential leaders in his freshman and sophomore classes to nurture leadership skills
One of the best ways to develop leadership is through recruiting – identifying potential leaders in the recruiting process
Leadership Discussion
"What ifs" – pose questions to your players during the spring time that address specific issues that could come up on/off the floor
Coach Smart: 1st level of leadership is taking care of your own stuff. You can't lead anyone if you don't take care of your own stuff
The first time your team faces adversity, your leaders will reveal themselves
Coach Ford: James Anderson needed to be cultivated as a leader because he was the best player on the team; even though this went against James' personality
You can identify a leader by who is following him
Almost as important to identify players with the wrong message. What is coming out of your players' mouths when you are not around?
Coach Ford: spends the first two week of school very focused on who's going to lead his team…especially when adversity sets in
Focus on the 9-10 guys that are on board with your message/culture
Cannot get distracted by 1-2 guys that are not
Three kinds of guys on your team: Leaders, Followers, and Cowards
Players don't know what they don't know, so we need to tell them what they don't know
Bring in people that the players have high respect for to talk to the team
Get your leaders to see the game as the coaches see it
Common Kevin Garnett quote: "I hear leadership, I don't see it"
Leadership is truth: the truth has to be told
The hardest place to provide leadership is with your friends
Leaders – do they occupy the seat or execute the position?
Leadership can build or destroy
You can win without a great leader; you cannot win with a great leader of the wrong things
Three simple steps to getting what you want: Know what you want, Be willing to pay the price, and Pay it
Shaka Smart
Captains' practice – once a week for 45 minutes
Have leaders show the team an edit on film
Have players give a scouting report
Have your point guard lead a walk through
1 timeout per practice for his team
'Accountability Teams" – 3 teams with 1 leader per team
Used this over the summer with the strength coach in charge
Awarded points for various things: showing up on time, getting extra shots up, etc.
There is always inconsistency between what a players want and what he is willing to sacrifice/do to get it
Travis Ford
Spends an enormous amount of time and energy in getting to know his players
Will walk a player to class from time to time
Will bring guys to his house (usually meets with guys individually at the beginning of the year)
"Bio Night"
Players are assigned to do bios on one other player and all bios are presented on Bio Night
Coach selects who is partners with whom and says that he learns a ton about his players (and they learn a ton about each other ) during this night
Will also allow his players to ask him any questions they want
Need to maintain a good relationship with players because there are a lot of avenues for them to vent (Facebook, AAU coach, family, etc.)