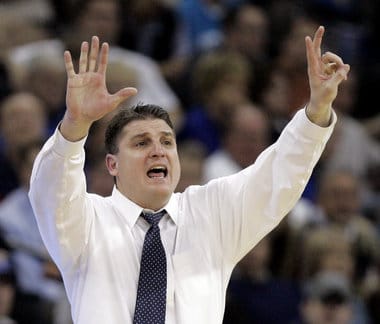 Jim Christian is the head men's basketball coach at the university of Ohio and is in his first year (12-13). Ohio is a part of the Mid-American Conference and last year went to the Sweet 16. He was previously the head men's basketball coach at Texas Christian University for four years.  Coach Christian has been around the game of college basketball for a long time and has developed a wealth of basketball knowledge. Here are the basketball coaching clinic notes from when he spoke at the Rising Coaches Clinic in 2010.
Notes
Who are the guys you are working with now?
Be united and keep your Head Coach happy!
Your co-workers are your best supporters
You can get a job from people on your current staff
How hard are you willing to work?
Roll with the punches
You can't prepare for everything
Don't worry about things you cannot control down the road
Spend your time learning and getting the program better
You better have ideas about how to get the program better
You are always being evaluated and always being interviewed
Be genuine, be real, be available, and be approachable
Be thankful
You better be a good coach, and you better know how to coach
The one thing every program has is players
Invest in the players!
It's all about them!
Miscellaneous
It's not a race to get the next job
What's a bad job? If it doesn't have any players!
Figure out what works for you and do it!
When recruiting, ask yourself: "can he play for me?"
As an assistant, get to know everyone on campus