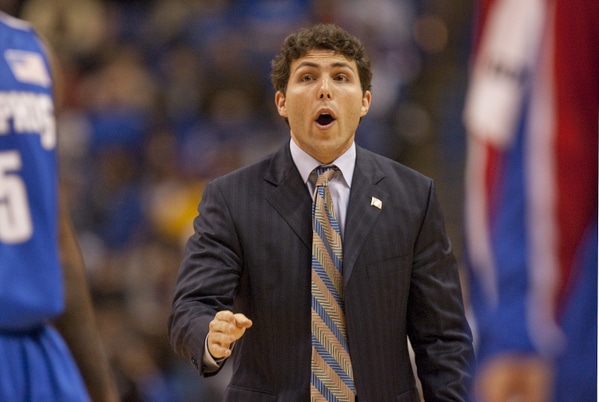 Josh Pastner is the Head Men's basketball coach at Memphis University and is in his 18th year at the division 1 level (player, staff members, assistant coach, and head coach). From his experiences coach Pastner has been able to acquire a wealth of basketball knowledge, and is looked on as one of the top college basketball coaches in the country.
These basketball coaching clinic notes are going to cover the Memphis Tigers' offense and their ability to play fast with the basketball. Along, with insight on the Memphis offense, there are going to be basketball coaching tips that Coach Pastner has picked up over his years of coaching, and from working under some great coaches.
Notes provided by Chris Gold, Assistant Basketball Coach at Snow College (Utah).
Coaching Clinic Notes
Big on charting 50/50 balls, hockey assist and shows film of it to his players.
Also likes to show film of bad or selfish shots.
In his offense he gives freedom to play off of his structure.
Too much structure takes away from good player's creativity.
Because his teams are very athletic, like to run – his biggest question to his staff and team is, "Can we execute in the half court in the games that become smashmouth, halfcourt grinders?".
Said it multiple times, must have good players.
When at Arizona under Lute Olson, their team led nation in scoring 4 or 5 years w/ 5 really good players.
Always impressed with John Calipari's teams defensively because he never does a lot of defensive drills with team.
The secret is, Cal does 50 minutes of 5 on 5, spread out 1 on 1 drive.
Offense is on attack, defense has to be able to survive guarding the ball under heavy 1 on 1 pressure.
Pastner never uses the word 'run' with his teams, always says 'sprint'.
So many coaches say they want to play fast, but like with anything else you want to do you must be COMMITTED.
When his team doesn't want to sprint in drills or live, he will play a 2 minute game and go crazy, make them play ultra fast, push the ball, score as fast as possible. Speeds everything up.
Ex. If there is a foul, add point, give ball to other team and GO!
After about a minute players are just dead
"Are you sure you want to run?"
Memphis Motion
Starts in stack set, likes to "swing the wings" (Cross them, set screens for each other to get open).
Guards can curl tight for shot then pop straight out to get open on wing.
Once ball is entered to wing, point goes wide to opposite to corner. Weak side guard that is being pushed out always comes "up through the nail".
Either straight up the lane or sometimes depending on spacing he will have to cut it short and go through the elbow, then up through nail to get ball on top.
Posts are wide setting pin downs and flares for guards.
Favorite actions are:
Curls
Flare/ Backscreen
Flare/ Rescreen
Becomes continuity motion offense
Guard on top with ball is able to score 4-6 points a game breaking off and beating man 1 on 1 because of the repeated screening action that is occupying the 4 other players set out wide on the wing.
Additional Thoughts
Posed this question, what do you run for the play after a play?
When your set call breaks down, doesn't work, you get offensive rebound – do you have something your team can auto into for these situations?
Believes simple is powerful
Uses 4s that are really 3s
Lute Olson likes entering ball from top of key, especially if you have shooters on wing – hard for them to help off
Drives MUST get to the paint!
Charts Pick and Rolls as Result (score, TO, post score) or Reset (Defense defends)
Memphis has a huge emphasis on not allowing 3s
Teams of lesser talent can beat you if they hit 3s