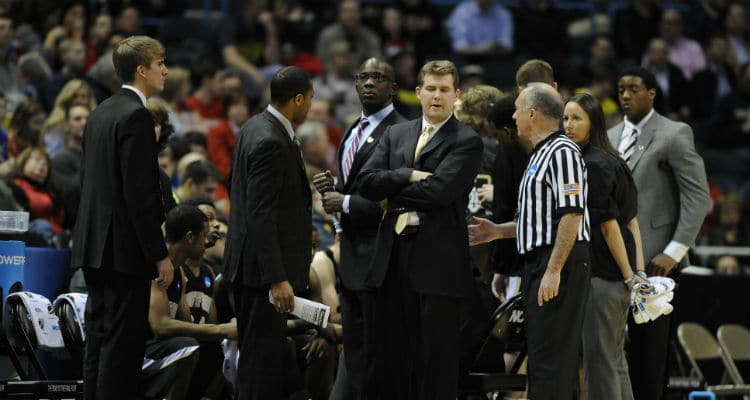 This article was written by Wofford College associate head men's basketball coach Dustin Kerns. 
Kevin Garnett is 38 years old and entering his 20th NBA season. He is my favorite NBA player for many reasons, but most of all, I truly admire his passion and competitive fire to play the game of basketball. When he steps off the floor this season, he will join only three other players who have played two decades in the NBA (Robert Parrish, Kevin Willis, and Kareem Abdul-Jabbar).
What Does Greatness Look Like?
Not only is he still playing, he still produces and has played in more than 1,500 games, regular season and playoffs combined. Surpassing his financial security, he continues to play because he loves the responsibility to produce. Kevin Garnett is wired differently – that is why the great players are perceived as great.
He always wants to guard the best post player, he is always leading and talking to younger players, and he is always strategizing with post and team defensive schemes. He is paid well, and he should be because he earns it. You do not just get respect in the NBA, you earn it, and Kevin Garnett certainly has earned it. His mind is more powerful than his body, which is a huge reason he still produces after 19 seasons in the NBA.
Ultimate Team Basketball Player
Kevin Garnett, like most great players, has a legacy. He won an NBA Title, MVP, and owns many records, but his legacy is his love. Who is the next NBA player to have as much respect for the history of the game and its predecessors as Kevin Garnett does? Who will leave a legacy of being an ultimate team guy who was driven by the competition and learning process? Who will overlook being considered a power forward one season and a center the next season because he just wants to be "on the floor?"
The legacy of Kevin Garnett is the journey of his career and how his mindset and attitude made his physical talent go from great to legendary. There is so much to learn from him and his approach to everything he does. In the end, he stands for something and is a self-made man.
Notable Career Basketball Stats
Kevin Garnett owns a lot of personal accolades, but these certainly stand out and deserve mentioning:
*Only player in NBA history to reach at least 25,000 points, 10,000 rebounds, 5,000 assists, 1,500 steals, and 1,500 blocks in his career
*Only player in NBA history to average at least 20 points, 10 rebounds, and 4 assists per game for 9 consecutive seasons (1998–99—2006–07)
Finishing the Right Way
This will most likely be his last NBA season and our last chance to watch and appreciate what he does. The sports world unified and celebrated Derek Jeter's exit from baseball in an epic moment. I certainly wish and hope that whenever it is time for Kevin Garnett to play his last game, he gets the same recognition and moment because he has earned it.
In life, at some point, we are all replacements of some kind. We replace someone, and someone replaces us in our job or role. The NBA has to replace Kevin Garnett, but in my opinion, his legacy is irreplaceable.
The Challenge for All Basketball Players
This all leads to the following challenge for basketball players. What will your basketball legacy look like? Are you going to be known as a player that really loved the game and gave it their all every time they stepped on the court? There is a right way to do things, and the career of Kevin Garnett is an example to every young basketball player as to what that looks like. Be a leader in your actions, and not just in word. Many people talk about leadership, but not many show it through their actions.
"I hear leadership, I don't see it" – Kevin Garnett