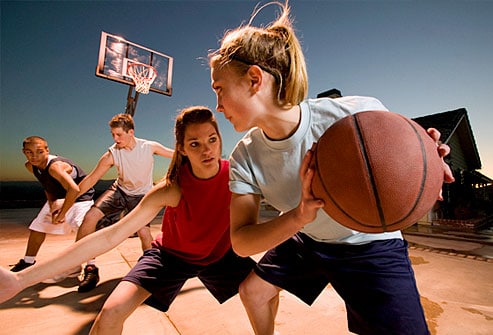 Young basketball players need to be presented with basketball drills that are going to make them better, but that are also fun and that will keep them interested. This basketball training workout has a good mixture of different types of drills to keep a younger player interested and also help them to build up their basketball fundamentals.
The early years in a players skill development are very important because they can either develop a love for the game that will carry on throughout their playing career, or they can be turned off because of coaches pushing them too hard. Make sure that when doing this kids basketball training workout you are promoting effort and not results. It is okay for the player to mess up on the drill as long as they are doing their best.
If the player is not strong enough to shoot the basketball the correct way, then skip over the shooting drills. You don't want to practice bad habits.
Focus Points
Keep your eyes when dribbling the basketball.

Focus on good form for all of the shooting drills.
Make sure that you jump off of the correct foot when you lay the basketball up for the Mikan Drill.