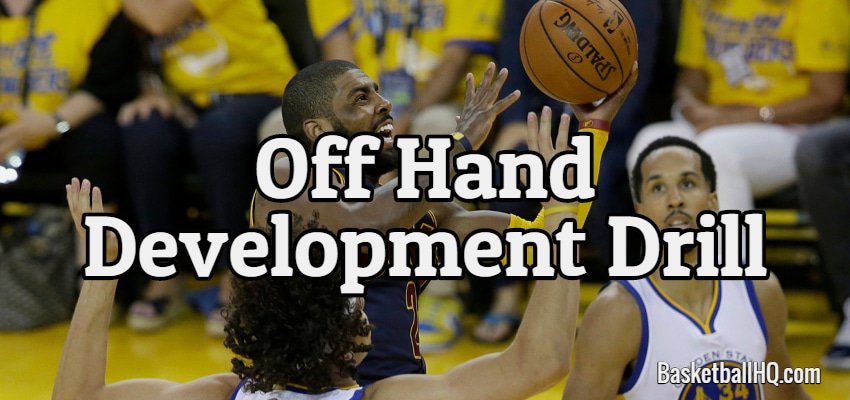 This is a great basketball drill because it is compatible with a player doing a one-person workout or an entire team. The drill will allow players to work on ball handling with their off-hand and finishing at the rim. Forcing the use of the off-hand will keep players from always transferring the ball over to their strong hand when they get in trouble. It will help the player start to become comfortable and confident using their off-hand.
Regardless of position, this is a great basketball finishing drill to do because even a post player can benefit from being able to take a few outlet-dribbles up the court to create a better passing angle after a rebound or a kick ahead to a post player in transition where they need to put the ball down for a couple of dribbles before finishing at the rim.
Basketball Drill Overview
Drill Name: Off-Hand Development Basketball Drill
Equipment Needed: 1 basketball per player or 4-6 basketballs for the whole group, 4 chairs, and a full-court.
Similar Basketball Drills and Resources
Goals of the Drill
Develop your off-hand dribbling the basketball and finishing at the rim.
Coaching Points
Keep your eyes up, scanning the floor the whole time while you are dribbling the basketball.
Make a great change of pace moves when you go buy the chair defender.
Don't rock the ball when you go to finish.
You can assign a specific finish (athletic finish, floater, runner, reverse, euro, pro hop, one hand quick finish, etc.) or leave it up to the player on the finish.
Basketball Drill Instructions
Set up a chair on each elbow and have a line of players under each basket.
At the same time, a player from each line will attack the chairs to their left, make a dribble move at each chair, and then finish with a left-hand finish.
The next player in line will repeat the same action and continue this cycle.
The first move that the player(s) will make at each chair is a hesitation and go move, the second move will be an in and out, and the third move will be a retreat dribble to an in and out move.
It is up to you how many times a player does each move, but usually down and back twice is a good standard.