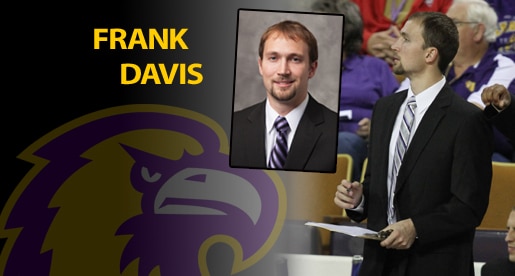 This article was written by Frank Davis who is an assistant men's basketball coach at Tennessee Tech University. Coach Davis is not only a college coach, but he was also a standout college basketball player as well. He played at TTU, and finished as the top 3 point shooter in school history, as well as a thousand point scorer. 
As a former basketball player from Gainesville, GA I can vividly remember the desire to play at the highest level of basketball that I could reach.  I would have given anything for Georgia Tech, Georgia or any power conference to have called my name.
Human nature wants us to set high goals and strive for the ultimate successes.  It is important however, to keep in mind the right program fit, relationships and opportunity are all vital in the recruiting process as well.  Too many times players and coaches will eliminate quality non-division I programs, although they have not done enough thorough research.
I have not been coaching as long as some, but have been a part of NAIA, Division I, Division II and Division III basketball.  In that time period one thing I have learned is that there are good players everywhere.  Some of the best players I ever coached or competed against were at the NAIA and Division II level.  Many teams in fact have several players that had or could compete on NCAA tournament teams.
My advice to athletes aspiring to play at the next level is to know how you are being recruited and who is actually recruiting you.  Do your research.  Only 3.3% of high school athletes go on to play NCAA (Divions I, II and III) Men's Basketball, so the selection is small. Be grateful for the opportunity, and that you are being recognized as a player who can compete on the collegiate stage.
This leads me to my point that you need to be considerate of how you are being recruited, regardless of level, and most importantly never forget how fortunate you are to have the opportunity to play in college.
Through a tight selection process, Division I, some Division II, and NAIA programs are allowing you the opportunity to get a college education "free of charge" by playing the game of basketball.  Graduates all over the world spend approximately 10 years paying off what is being recorded as an average of $30,000 in student loans.
I like to think of it as buying a house for the first time.  You need somewhere to live and have a list of needs that will make the location comfortable for you.  Not flashy or excessive, but you are taken care of.  On top of that your mortgage will be completely paid off at this particular house.  We all have our personal opinions, but I find it extremely difficult to tell a person no and pay for a different home over the next part of my life.
In my opinion it seems self-explanatory to find a home you will be comfortable in for 4 years, and not stuck paying rent.
Players and coaches should take the initiative in learning about the programs showing a sincere interest in them.  It means something substantial to have a coach give consistent attention throughout a student's recruitment and can increase your report when you take the time to research them. My goal is not to downplay Division I athletics, but remind you that it is a blessing to set up your future by playing a game you are so passionate about.
As a basketball coach one of the most fulfilling things is having a student athlete buy into you and your program, and wanting to be a part of something bigger than themselves.  20 years from now it will not matter how many points you scored or the level of your conference.  It will be the relationships and memories you made with a group of young men playing the game you love.  Regardless of level, when opportunity knocks, you answer it!