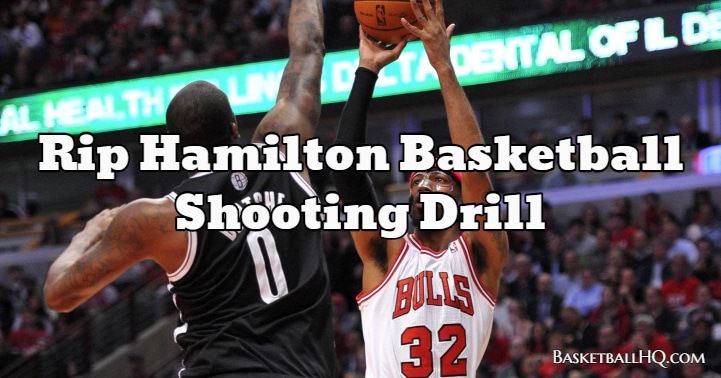 A great way to improve your basketball shooting is to improve your mental toughness. The stronger you are mentally, the more likely you will be able to take and make a big shot at the end of a game.
This basketball shooting drill is not very complex, but it will challenge the player to hit multiple shots in a row. The player must shoot different types of shots and string together makes to get to the next spot. It is a great drill to use at the end of a workout to challenge the player mentally. Basketball drills like this are also great for getting up a high volume of shots.
Basketball Drill Overview
Drill Name: Rip Hamilton Basketball Shooting Drill
Equipment Needed: 1-2 basketballs and 1-2 basketballs.
Similar Basketball Drills and Resources
Goals of the Drill
Coaching Points
Stay in your shot until you make or miss; value every shot.
Stay mentally engaged as you begin to get tired.
Basketball Drill Instructions
The shooter can start anywhere that they would like on the 3 point line.
When the drill starts, the player will alternate between shooting a catch and shoot 3 and a one-dribble pull-up.
The only way the player can move to a different spot is to make two shots in a row.
The drill lasts for 5 minutes, but after 2 and a half minutes, the player will shoot 5 free throws, and then for the last 2 and a half minutes, everything will go to the left.
Keep track of the number of spots the shooter beats.