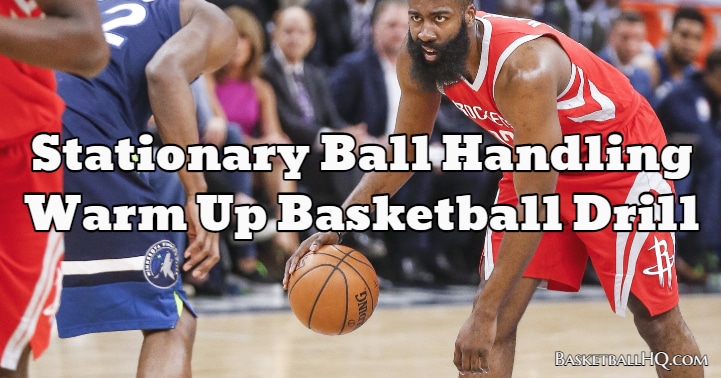 This is not an overly complicated basketball drill, but it is perfect for getting warmed up before a practice or workout. It will allow players to get some touches on the ball and get their legs warm. Also, it doesn't require much space either, so it is perfect for a large number of players in a basketball camp setting as well.
This stationary basketball dribbling drill is perfect for all levels of players because the moves can be switched in and out. For more advanced players, you can add more difficult combo moves to execute, and for beginners, you can simplify each move. So whether you are just starting, are an expert player, or are looking for basketball dribbling drills for your team (at any level), this is an excellent drill to use.
Basketball Drill Overview
Drill Name: Stationary Ball Handling Warm Up Basketball Drill
Equipment Needed: One basketball
Similar Basketball Drills and Resources
Goals of the Drill
Work on ball handling and several different dribble moves.
Get warmed up before a basketball practice or workout.
Develop confidence in both hands dribbling the basketball.
Coaching Points
Stay in an athletic stance the whole time.
Keep your eyes up, seeing the floor while you are dribbling the basketball.
Dribble the basketball as hard as you can and control each dribble.
Basketball Drill Instructions
Each player will start with a basketball and in an athletic stance.
The first move that the players must execute is a crossover move without any dribbles in between for 20 repetitions.
The next move will be a between the legs move (alternating legs) for 20 repetitions and then behind the back for 20 repetitions.
After completing all of the single moves, the drill will move into double moves.
From here, the coach can select any double or triple move that they want the player to execute.
It could be a between the legs crossover, between the legs behind the back, etc.
You can also work on triple moves like a crossover between the legs behind the back move or any other combinations you would like.
Continue each dribble move for the desired amount of time or repetitions.
To make this basketball dribbling drill even more difficult, have the players execute any of the dribble moves with their eyes closed.