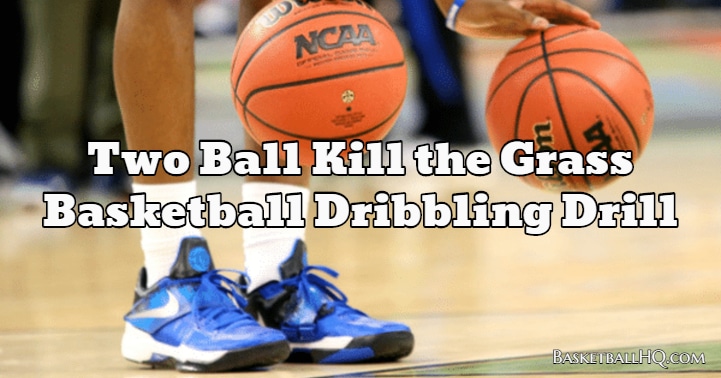 This is a great stationary two ball basketball dribbling drill that should be done regularly if you want to improve your handles. It can be done pretty much anywhere because all you need is a flat hard surface and two basketballs. This basketball drill works so well because you are pushing yourself and getting outside of your comfort zone.
The drill will only last for 15-20 seconds, so go as hard as you can and not worry about turning the basketball over. In fact, in this basketball dribbling drill, turning the basketball over is encouraged. You don't want to turn the basketball over purposely, but you want to be going too hard that you turn the ball over. That way, when you slow yourself back down to normal speed, you have even more control of the basketball.
Basketball Drill Overview
Drill Name: Two Ball Kill the Grass Basketball Dribbling Drill
Equipment Needed: 2 basketballs.
Similar Basketball Drills and Resources
Goals of the Drill
Push yourself out of your comfort zone, develop your handles, and work on your hand quickness.
Coaching Points
Keep your eyes up and dribble the basketball as hard and as fast as you can.
Be creative with your moves, and don't repeat the same move two times in a row.
Stay light on your feet and in a low dribble position.
Basketball Drill Instructions
The player is going to start with a basketball in each hand.
When the drill starts, the player will dribble the basketballs as hard as possible and do any move they want in a 5-foot space.
They will continue to do moves for 15-20 seconds and then stop.