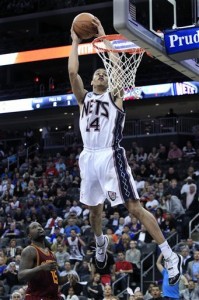 There are a lot of vertical jump training programs out there that claim to add 10 inches to your vertical in 6 weeks guaranteed. Every body is different, and if you already jump pretty high you won't be able to add another 10 inches to your vertical that easily. Jumping has a lot to do with technique and flexibility so the first thing you need to do is focus on technique and stretch everyday.
"You can practice shooting eight hours a day, but if your technique is wrong, then all you become is very good at shooting the wrong way. Get the fundamentals down and the level of everything you do will rise."
- Micheal Jordan
The same thing goes for jumping. Make sure that when you jump up you are using your entire body and focusing on technique.
This is going to be a 6 week workout plan that you can do 3 times a week. It is also important to be lifting weights during this workout because that will also help you jump higher (only lift weights if you are old enough). Here are two other articles you should read before starting this workout; The Importance of Stretching and How to Increase Your Vertical. Mix this vertical jump training in with your basketball training and basketball workouts and be patient with the process. Hopefully at the end of the 6 weeks you will be more explosive than you have ever been before.