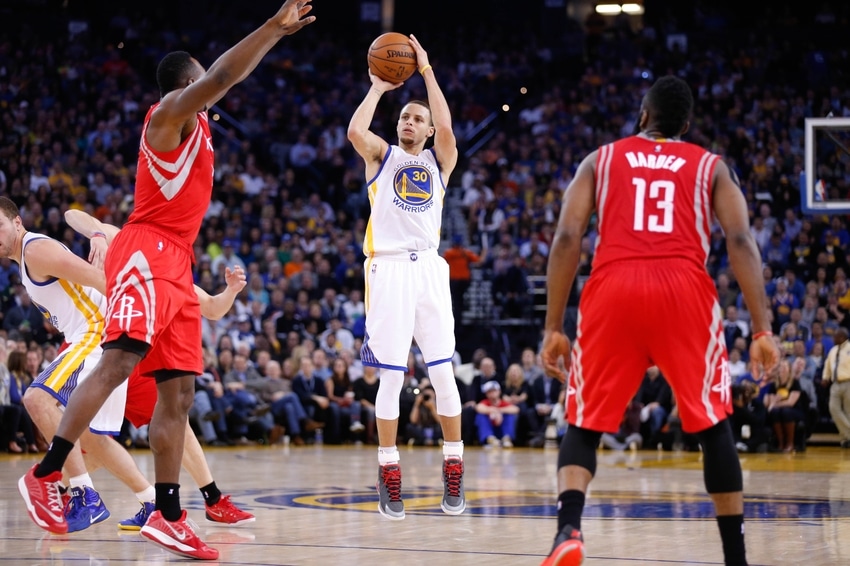 This article was written by Basketball HQ Co-Founder Kyle Ohman.
You probably clicked on this article, wondering, "how in the world could a player like Stephen Curry be bad for basketball?" In defense of this article, Curry is one of my favorite players to watch. He can make shots that 99% of the world can only dream about making. He is idolized by younger players that do their best to emulate his moves and shots. However, herein lies the problem.
Young players see Steph shoot a free throw line floater or a behind the back between the legs pull up from 5 feet from behind the 3 point line, and they believe that this gives them validation to shoot the same shot in a game. To be fair, it isn't just Steph; players like LeBron, Carmelo, Durant, and Harden also hit ridiculous shots as well.
However, what younger players don't realize is the amount of time that these elite players have put into their game, first mastering the fundamentals and THEN learning these high-level moves. They don't understand that before Steph starting shooting 25+ foot 3 pointers, he became deadly at shooting 18 footers. Or that he spent an entire summer re-working his shooting form with his dad Dell Curry.
Strong Foundation When Shooting the Basketball
Too many players want to practice and take difficult shots because they see a player like Curry do it. This is just not realistic, though, and it usually ends up with that player shooting a low percentage from the field.
Every player's goal should be first to master the details and learn to take and make high percentage shots. After this, it is okay to add different aspects to your game that make you harder to guard. It all starts with a strong foundation, though.
Spending Time in the Gym
An important key to this is what you spend your time on in the gym. You should be spending most of your time working on moves that you know you will get throughout the course of a game. Of course, it is fun to practice a combo move into a step-back shot, but is that a realistic shot that you will be shooting during a game?
Yes, you should spend some time learning to create for yourself if you are a player who will have the ball in your hands at the end of a clock situation, but even if so, this type of shot should not dominate your workout time.
If you are not sure what types of shots you should be working on, there are two great ways that you can figure it out. The first is simple – ask your coach. They are sure to show you some different moves that you could be working on and developing on your own.
The second requires a little bit more work but is equally as valuable, and that is watch game film and see some of the different opportunities that the defense is giving you throughout the game. This will not only help you learn what moves you should be working on, but it will also help you realize when to use them during a game.
Final Thoughts
The last thing I want this article to do is to discourage or kill the dreams of the next Steph Curry. The goal of this basketball article is to show you the right way to go about it. There are no skipping steps when trying to achieve greatness.