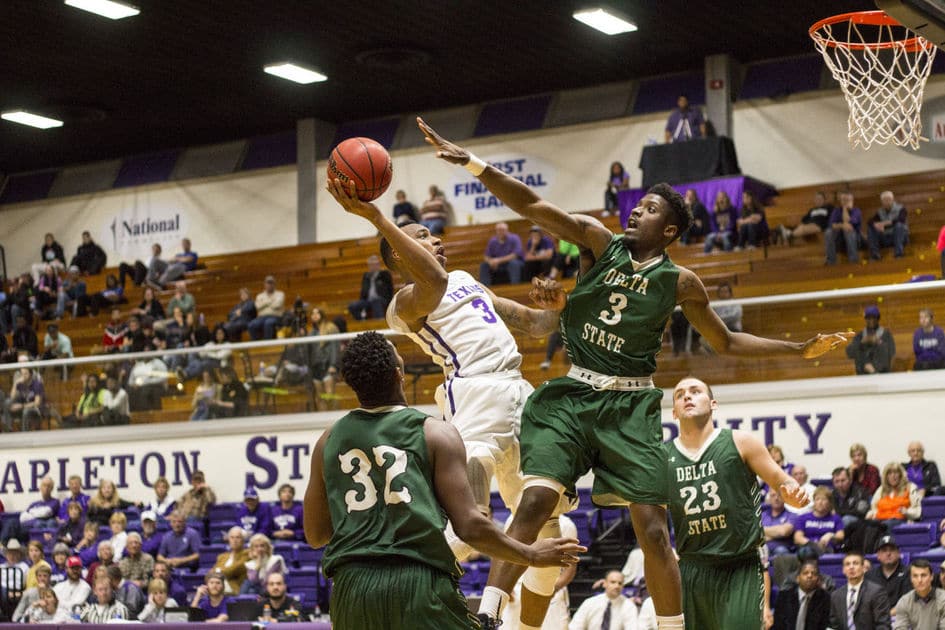 This article was written by Delta State University head coach Jim Boone and assistant coach Robert Szorc. 
Employing the pressure pack line philosophy for the past 21 years, the term "closeout" and one's ability to execute this fundamental skill is at the crux of our defense. Because we do not deny perimeter passes, closeout situations occur an inordinate amount of times during a game, specifically during each possession.
Therefore, closeouts are an integral part of our practice plans on a day to day basis because much of our success or lack thereof can be directly related to our ability to closeout.
The type of closeout that is performed is directly related to the relative skill set of the man that they are guarding.  In preparation for an opponent, we spend a great deal of time discussing how we will closeout to each player. The terminology below along with the teaching points describes the different labels that we utilize as per each specific closeout.
Types of Closeouts
Dead 3 (Ray Allen)

This is for a player that is a really good catch & shoot three point shooter.
Closeout "Up under offensive player forcing player to put ball on the floor.">

Straight (Kobe)

This is for a player that can both shoot it and drive it.
Closeout "Within a finger touch."

TSPD (Think Shot – But Play Drive)

This is for a player who is a marginal shooter, but will knock down the open shot.
Closeout "Hard and Short – Get a great contest."

Driver (Rondo)

This is for a player who cannot shoot and really only wants to drive it.
Closeout "Toes to the Pack."
Teaching the Proper Closeout
Sprint 2/3 of the way, "Chop It Down" the last 1/3.
High hands with bent elbows.
Palms to the Sky.
Butt down, head back.
High Hands to Active Hands (Hands on the glass).
Square to the ball.
Drills to Work on Closeouts
3 Line Closeouts (Form Closeouts specifying the type of closeout).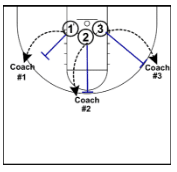 1/1 Closeouts (2 dribble max – activity in gap – hard & short – contest the shot).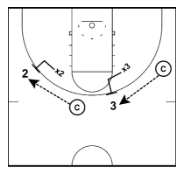 2/1 Closeouts.

As important to closeouts is that the players understand and know the basic principles that specifically define the set-up.  Simply stated, they are the "Know Your No's."  In order for our defense to perform at its highest level, we must be able to execute the seven points below.
No Paint
We do not want the ball to get to paint, if ball gets in there, have to get it out.
Consequences of the ball getting to paint:

Take a charge – emphasize and teach.
Get a deflection.
Block a Shot.
Hard, clean foul (do not give up lay-ups).
No Baseline
Eliminate long rotations across the baseline and mismatch blockouts.
No Rhythm 3's
Must contest shots with every fiber of one's body.
No Direct Drives
Must be able to guard your yard.
No Fastbreak Lay-ups
Sprint back on defense – Get back guys must get back.
No 2nd Shots
No Fouls
Contradictory to consequences of paint, but we want to shoot more FT's than our opponent attempts.
These are the keys to our pressure pack line defense that we have found successful in our program when it comes to developing our defensive strategy. Hopefully these keys will add some value to your defense as well.