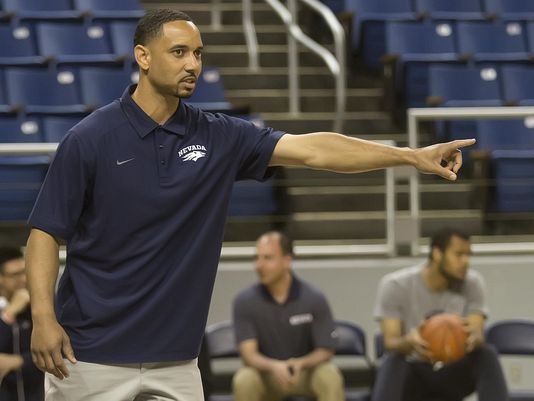 This basketball coaching article was written by University of Nevada assistant men's basketball coach Jay Morris. Coach Morris has been a part of the Matadors coaching staff since 2015. Before joining the Wolf Pack, Jay was an assistant coach at Cal State Northridge, Director of Basketball Operations at Long Beach State, and an assistant coach for Westchester High School. 
The allure of the flashy suits, high salaries, and camera time come long after the start of most basketball coaching careers. In the past ten years, enormous salaries have been given to head basketball coaches and high-profile assistants. These salaries have drawn a lot of people to this line of work. Getting your foot in the door to a lucrative basketball coaching position can be very difficult and a job in itself.
For one, obtaining a college basketball coaching position can take years of work, research, patience, and persistence. Just as in any line of work or career field, getting your foot in the door is not all about what you know but who you know.
In most instances in college basketball, once you get your foot in the door, it will still take time to work your way to the top (and unfortunately, the modern generation is all about instant success and gratification). There is no standard method or way to get your foot in the door. The most common step taken by most college basketball coaches has been to coach high school, junior college, or AAU basketball.
The salary will probably not be what you want it to be, but remember, when considering being a college basketball coach, you should have the mindset of doing it for the love of the game, not the money – that is one key to longevity and success in coaching at a competitive level.
When you see a basketball coach gracing the sidelines, the last thing that probably comes to mind is that the coach used to work for free. Trust me, as I did, a lot of coaches started out volunteering. I volunteered for years before I had a chance to get a Division I college basketball job. If you choose to go the route that most coaches do, you have to put everything you have into it. Your passion and enthusiasm as an entry-level coach needs to be the same as a coach making a million dollars.
Entry Level Positions
As mentioned, most college basketball coaches get into the business on the ground floor. The number of entry-level positions at each school differs and depends on the size of the school's budget and/or what the head coach wants. Some of the popular titles given to these positions are Director of Basketball Operations (DOBO), Film Coordinator, and Director of Player Development.
My first job in college basketball was as a DOBO. For me, this job was not about the money; it was more so about the opportunity, experience, and the love of the sport. This job paid $1,000 per month, before taxes. In this position, I was able to see and learn all aspects involved in running a Division I basketball program.
Starting at a Lower Level
Being a high school, junior college, or AAU basketball coach, is another good way to get into college coaching. If you coach basketball at one of these levels and put together a successful program, this can help you get into the college coaching world. The way it usually works is, if you have good players and develop good players to become better players, you will be successful.
When you produce good players, college basketball coaches will have to call you to inquire about these players during the recruiting process.  This is how you begin building your resume and necessary relationships. A college coach's job partially relies on your evaluation and recommendations.
You need to be honest with college basketball coaches. In building relationships with these coaches, they need to be able to trust you. If you make your players seem better than they are just to get them placed, a college coach will quickly find out that the player is not as good as you led on. A good, trustworthy relationship can go a long way and help you to land a college job in the future.
Basketball Camps
Working basketball camps is another way to gain some key relationships. With AAU basketball and private entities taking up so much of summer basketball, college basketball camps are becoming fewer. There are still a number of college basketball camps, and if you can work one of these camps, that is another way to get in the college basketball circle. These camps can be key to building a relationship with a coach or basketball coaching staff.
Online Basketball Resources
The Internet is a good source of information. Many websites post college coaching information and job vacancies. If you type "college basketball jobs" into a search engine, you should be able to find a number of opportunities.  Just keep in mind that the vacancy might have existed for a while, and the search could have already taken place.
As soon as you hear of a possible opening, you need to work every angle you can to try to get your foot in the door. Unlike some jobs, simply sending a resume and application hardly ever work.
NCAA Basketball Coaching Rules
On April 28, 2005, the NCAA adopted the rule, which went into effect on August 1, 2005, that a Division I men's basketball team would be allowed only four coaches on each staff. Currently, there are approximately 1,400 college basketball coaching jobs. This may appear to be a big number at first glance, but in actuality, it isn't easy to get one of these jobs. If you have no prior coaching experience, it is much more difficult to get one of these jobs.
Sometimes your duties and the things you have to do in such a position are not attractive, but once you have done them and look back, you will be thankful that you were in a position to learn so much of the behind-the-scenes of a college basketball program. All entry-level positions are administrative in some capacity because NCAA rules do not permit these positions to do any on-the-floor coaching or any recruiting.
College Basketball: Getting Your Foot in the Door Conclusion
If you have a love and passion for the game of basketball and want to teach it at the college level, hopefully, this basketball coaching article can act as somewhat of a blueprint to assist you in navigating through and getting your foot in the door. If you are lucky enough to get one of these jobs, be ready to go. When the door cracks open, I can guarantee there will be no time to look back.