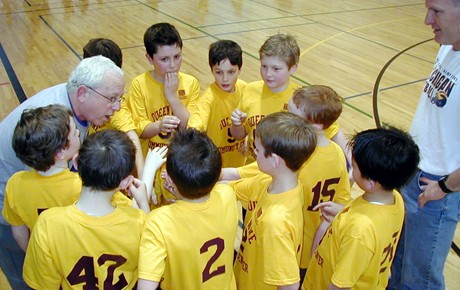 If you want to learn how to coach basketball, then it's important to remember that not everyone (and in fact, no one) starts as the head coach of the North Carolina Tar Heels or any other NCAA Division I basketball program. Every coach from Dean Smith to Phil Jackson got their start coaching basketball in a non-high stakes position out of the spotlight. Here are some tips and ideas for starting out that should be useful for just about anyone who wants to learn how to coach basketball.
Get Started Coaching Basketball Right Away!
The longer you put off starting your basketball coaching career, the longer it will take for your career to blossom. Whether your end goal is to make it to the highest level and coach an NBA team or a high-level NCAA Division I team, or whether your end goal is simply to coach a weekend YMCA youth basketball team and lead them to a winning season, it is still important to get started as soon as you can!
Think Outside the Box as a Basketball Coach
Just because the high school boys basketball team close to you already has a coach doesn't mean that you should give up on searching for a coaching position. Think outside the box and see if you can find other venues to start to hone your basketball coaching skills. Chances are that many youth basketball programs would jump at the chance to take on almost any beginning basketball coach as long as they can make up for their lack of coaching experience with basketball know-how and a willingness to learn and help young basketball players. Call around to local YMCA's, rec centers, churches, and summer programs to see if they have any openings.
Get Back to Basketball Coaching Basics
If you are just starting out as a basketball coach and looking for your first real coaching job, then be sure to concentrate not on your lack of coaching experience but rather on the basics. Focus on your love for the game of basketball and your love for teaching basketball to eager players. Focus on your love for competition and your love for outsmarting and outmaneuvering the opposing coach. If you concentrate on these things, you will be in the right frame of mind to score that first basketball coaching gig!