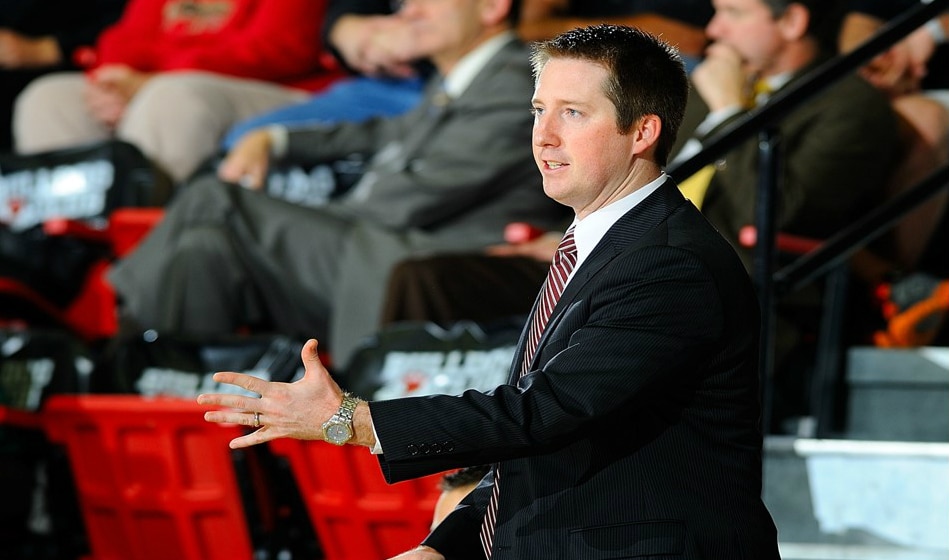 This article was written by Wofford Head Men's Basketball Coach Jay McAuley.
Coaching college basketball for a living is a dream for many and a reality for a few. Fortunately, I have lived that dream as a Division I assistant basketball coach under some of the best coaches in the business.
Ultimately, all assistant basketball coaches strive to one day sit in the "Head Chair," but in the meantime, our job as assistants is to ensure our boss' success (while seeing how it is done along the way).
No two head basketball coaches are the same. I have worked for both established head coaches and leaders at the very beginning of their head coaching journey. Though each man differs in philosophy and personality, the coaches I have had the pleasure of working for all had a common drive and competitiveness about them that permeated the staff and locker room. Below are the top 10 lessons I have learned during my journey as an assistant basketball coach:
No Job is Too Small
If you are in this business, you very likely started at the bottom and have had a few job descriptions that you did not think were a part of the gig when you were dreaming of your days as a Division 1 basketball coach. The saying "someone's gotta do it" rings especially true in this business. So be the guy that will tackle anything.
Willingness to do the less than glamorous jobs and take things off the head coach's plate will gain you trust and loyalty in your boss's eyes. Some leaders struggle to delegate, and others excel in this area. No matter who you work for, if you have a "no job is too small" mentality, you will not only gain in favor with your boss, but your other staff members will appreciate your extra effort as well.
Shut Up and Listen
Chances are that we have all been humbled a time or two in this profession, and those that learn to listen, tend to grow more. With each new job I have taken, I have tried to spend the first several months getting a pulse of the program and the head coach's needs.
From there, you can formulate a plan to deliver on the most critical areas: recruiting, scheduling, fundraising, academics, etc. Your boss will ask you for your opinion or input when they need it; just be prepared and organized with facts when they do ask.
Don't be a Know it All
Keep it simple. Doing your job well is usually the best avenue to take. The times I had gotten into trouble or regretted an action or comment have been when I did not stay in my lane. We all face enticing moments that help to feed the ego; however, your boss deserves all the credit, NOT YOU! Trying to impress your boss, staff members, or another school can not only get you into hot water but can also reflect poorly on the entire basketball program.
Lastly, you want to be confident and offer new ideas but only those that are backed by facts; do not rock the boat by providing ideas or opinions just for the sake of offering them.
RECRUIT, RECRUIT, RECRUIT!
Some would argue that this is the most important quality an AC can bring to a head coach. We all have preferences in recruiting, but that is secondary to your boss' likes/dislikes. You must find out early what your boss likes in a prospect (skill, character, academics, etc.) while also getting a feel for the areas he likes to recruit in. Know what to sell about your spot and know how to sell it well. As AC's, we should always be finding new ways to promote our boss and his program through social media, etc.
No Stone Left Unturned
As an assistant basketball coach, some of my best moments have been when I decided to stop at one more school, make one more call, or reply to a random recruiting email. We have all had recruiting success by finding that "diamond in the rough" player no one knew about or others passed over. Assistants must dig deeper than just recruiting services and rankings.
This problem solver mentality will carry over into other areas of your job as well. Plus, going the extra mile only helps build your network, increase recruiting territories, and promote your program to an area that might not know much about your school.
Cardinal Rule: Reply to every voice mail, text, email, etc.
Inject Confidence
This is a must, especially when working for a first-time head basketball coach. We all have fears and insecurities, and they can be magnified by the pressures we face in this profession. That is why your boss needs you to help him stay the course and remain optimistic when needed. He does not need AC's pointing out the problems of the program.
He needs problem solvers and positive sounding boards for him to be at his best. Dog days arise throughout the season and only get worse when you are not winning. During those times, speak the truth in staff meetings and be realistic about your situation (current roster, injuries, etc.). It takes time to build the right culture and win. If you show trust in your boss' abilities at the worst of times, then he can feel more confident in holding the team to his standards.
Promote the Vision and Leadership of Your Boss
When you start from scratch at a new school, try and find creative ways to get out and speak at basketball coaching clinics or fundraising events to spread your belief in your head coach and his vision. This will not only get you great experience in front of crowds, but it also shows your boss that you have his back and believe in his abilities to get the job done. Always find ways to promote what your boss is doing in terms of recruiting, coaching, and scheduling.
Smart Scheduling
I can hear the moans while reading this one. Scheduling is time-consuming and far from easy. However, it is an excellent way for you to network and put your stamp of approval on who you think your boss should play. If you can help create a winnable schedule with numerous home games, you will be in good graces with the head coach.
The last thing you want to do is chase the money for guarantee-games, make your team travel all over the place while missing classes, or have your coach justify your poor schedule to the program's supporters. Scheduling smart will win you games, thus making the head man very happy.
Be a Connector
Get to know everyone on campus so that you can provide the HC with names when needed. He will lean on you to put out fires when emergencies arise, so you must be prepared.
Connecting your boss with other college basketball coaches or people in your coaching circle that can offer guidance or a new idea is definitely advised. I have had guest speakers talk to our team or connected NBA guys with my boss over a meal in the past. The more you share your circle, the more he will open up his to you down the road.
Mediator Between Parents/Players and Your Boss
Assistant basketball coaches need to keep tabs on the parents and players. I realize there is a fine line here, and coaches prefer to limit this type of communication, but I think it is necessary in today's world. As long as you echo the head coach's vision and be truthful to the parent/player about their progress, I think it can be an extremely beneficial routine.
Parents/players' assumptions can be dangerous if they are not well informed, and they can lead to big problems for the staff. Head basketball coaches will appreciate you keeping some of these "issues" at bay until they must step in.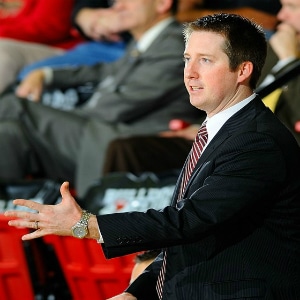 Jay McAuley
Wofford College Head Men's Basketball Coach
Jay McAuley has been a part of the Wofford College program since 2017.  Coach McAuley has also been a part of the Furman, Gardner Webb, and University of Georgia programs.