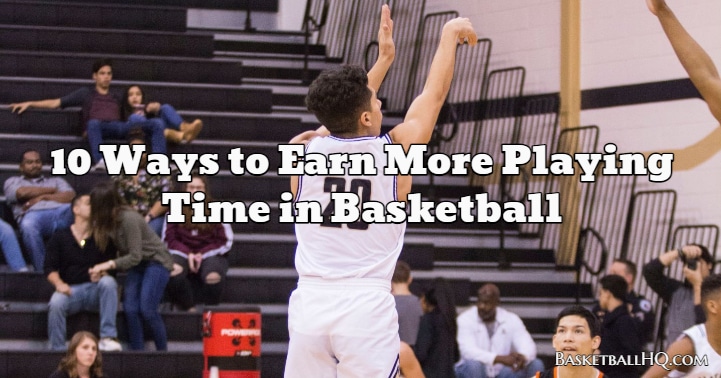 This article was written by Eric Werntgen, the head men's basketball coach at the University of Maine at Fort Kent. 
One of the biggest issues between coach and player is PLAYING TIME. Players want to know why they are not playing more and what they can do to earn more playing time on the court. As a basketball player, the better you can work on these areas, the more value you will add to your game. When this happens, your coach will do as much as they can to find playing time for you because they see the value that you provide the team.
So here are 10 ways to earn more playing time in basketball and making sure that you are the best basketball player that you can be.
1. Attitude
The most effective, coachable players are humble in victory and gracious in defeat. They don't have to earn respect; they demand it by their actions on and off the court.
2. The Perfect Balance
Schoolwork, a work-study job, off-campus job, practice, games, travel, etc. College level basketball players are called "student-athlete" for a reason. They must balance multiple daily tasks while still improving upon their game year in and year out. The college players that can find the perfect balance in their everyday daily lives are the most effective and ones that coaches look to reward.


3. Knowing and Accepting your Role
Coaches will ask players to sacrifice for the betterment of the team. The players who embrace their roles and flourish in them are what coaches want around and on the floor. Players that second guess and constantly revolt against change are the ones who will be riding the pine or shown the door.
4. Ability to Defend
Defense wins championships. Players who can score at will but consistently let their man do the same are not as valuable as a defensive stopper who really isn't needed to score. If you are looking to earn more minutes, be able to add to the team's defense. Be the best communicator, help-defender, and so on.
5. Taking Care of the Ball
Basketball coaches hate careless turnovers. Players that feel the need to go between the legs, spin twice and make an around the back pass that sails off the wall will surely hear the horn and be replaced by a less flashy but more fundamentally sound player.
6. Accept / Follow-Though on Criticism
Players will be given areas to improve upon during all stages of the year. The ones that act upon recommended weaknesses by following through and showing results will be noticed.
7. Teammate 1st
A great teammate in basketball is willing to pass up a good shot for a great shot, encourages teammates in workouts, practices, and games, and goes out of their way to help teammates in all situations. These are the players that make a program run on all cylinders. On the flip side, players that demand the limelight, preach about individual stats, brag about their value to the team, and isolate themselves from the group, will suck the energy from the program and are, in fact, better off on their own.
8. Ability to Make Others Better
Like a great defender, a basketball player who can make the four others around them better by setting up teammates to score is much more valuable than 1-dimensional scorers. Coaches will take a 2-1 assist-to-turnover guy any day over a double-digit scorer. First of all, they will set up teammates for great scoring opportunities, and secondly, they're going to take care of the ball.
9. Hustle Stats
Floor burns, drawing offensive charges, diving into the crowd, offensive rebounds, deflections, 5-second calls, sprinting in-between the three-point lines. What basketball coach doesn't love these intangibles in a player?
10. 1st to Show, Last to Leave
The guys that are in the gym before the coaching staff and then have to be kicked out following practice are the ones who coaches want to be a large part of their program. Gym rats will almost always be rewarded for their commitment to the program and their uncanny work ethic.
10 Ways to Earn More Playing Time in Basketball Conclusion
There are other things that basketball players can do to earn more playing time in any given program. If players follow these 10 tips to earning more playing time in basketball, though, they will be well ahead of the game and will no doubt be hard to remove from the rotation.
It is up to you, though, to make sure that you are spending the needed time on each of these areas. A few of them are simply choices that you have to make. Anyone can have a great attitude and give their best effort each day; it just comes down to choosing to do it.