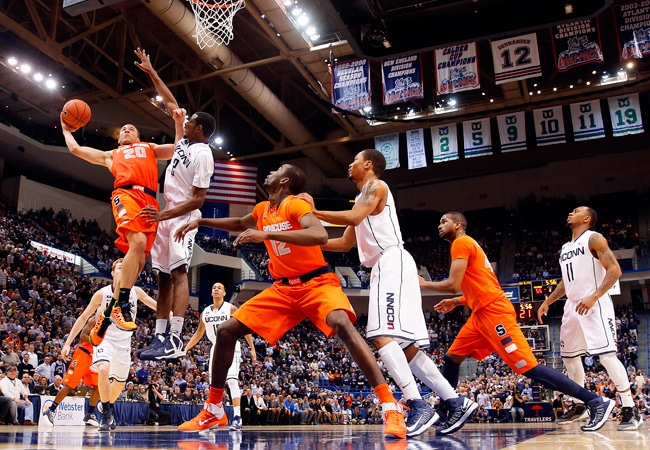 This article was written by Kyle Ohman, with college basketball coaches Russ Willemsen (Tennessee State University) and Chris Capko (University of Southern California). Kyle was a 1,000 point scorer in college at Liberty University and the 19th ranked shooter in the country by Fox Sports his senior year. He is now a personal skill development coach and CEO of Basketball HQ. 
The difference between high school and college basketball can be quite a shock for some players. This change can sometimes affect a player well into their freshmen year and beyond. It has also led to players transferring schools or dropping down to a lower division. So what can you do as a player to make sure that you are prepared to play college basketball level?
The answer to that question comes in two parts. First, you must identify the differences between high school and college basketball, and then you must prepare yourself to adapt to those changes.
This basketball article aims to give you 8 of the biggest differences that you must be ready for as you progress into playing college basketball. This will hopefully help to set you up to have a successful college basketball playing career.
Offensive Spacing in College Basketball
For most players, the half-court offensive spacing is the biggest on-court adjustment that will occur when playing college basketball. There is no longer the space to take 5 or 6 dribbles before trying to score on your man. College team defenses are all about being in the gap, help, and rotating on penetration. So if you try to isolate every time you catch the ball, you will be forced into a bad shot because the defense is set and ready for you. There will be end of clock situations where you may need to make an isolation move, but all of your time in the gym should not be spent working just on these types of moves.
This means that you need to find other ways to score in the half-court and adjust to the help defense. So instead of trying to attack one on one, attack off a quick reversal, moving without the ball, catch and shoot, etc. You need to be able to adjust your game to get quality shots within the offense. Here are a few scoring opportunities that are going to be available in a college basketball game (broken down by position).


Guards/Wings
Post Players
Accounting for the Help Defense in College Basketball
College coaches pride themselves in having a great team defense that can be in the gap or in the help, and most college teams are pretty good at this. That means that as a player, you need to account for that help defense, guards especially. As a point guard or a wing player, when you get past your defender in the half-court, you are most likely going to have another defender stepping up to help, and in most cases, it is going to be a 6'11 shot blocker or a player that seems to always be in the right place to take a charge.
So when you get past your primary defender, you need to know what you will do with the ball. Your two main options are going to be pass to an open teammate or look to finish yourself. You must be able to do both so that the defense cannot force you into one option. i.e., If you always kick out to a teammate, the defense will not help off, or if you only look to finish on the drive, the defense will collapse and make you take a bad shot.
On the finish, you want to be able to shoot the highest percentage shot, so that most likely doesn't mean driving right into the shot blocker's body to finish. This is where a great floater and runner come into play. These two finishes allow you to get past the first level of defense (your defender) and then get a quality finish before reaching the second level of defense (the shot blocker/player taking a charge). Whatever move you decide to use, make sure that you stay under control, and recognize that there is almost always a help defender that you must account for.
Finding your Role
The majority of the players on a college basketball team were the best player on their high school or prep team. That means that every player is coming in and trying to establish their role on the team. Even more, you are most likely going to be one of a few freshmen joining a team of upper class men that already have established roles on the team. So how do you earn and establish the role that you want on the team?
Every player's role will be different, but coming into college, you have a big impact on the type of role you want with your team. If you want to increase your value as a basketball player, you must be willing to put in the work and be willing to step up every day at practice, workouts, etc. With 14 other players competing for minutes and shots, you will have to earn your role on the team.
Another big key to finding or establishing your role is what you do outside of team practice times. The NCAA regulates how much time your coaches are allowed to have with you on the court during the season and off-season (2 hours per week on the court during the offseason, and 20 hours per week during the playing season). That means that you need to be committed to putting in work and continuing to get better on your own time if you really want to excel and have a bigger role with your team.
College Basketball Time Commitment
One of the hardest things for players to get used to in college is the time commitment that comes with it. You are a student-athlete, which means that there is more than just basketball you are responsible for. When you add up these other responsibilities; going to class, practice, weights, individual skill development, study hall, and 3 meals a day, you aren't left with much free time. You must recognize this and learn to manage your time well. Don't allow one of these areas to suffer by not budgeting enough time for it; you must find a way to balance all of them.
The Distractions in College Basketball
The higher the level you play at in college, the more this becomes a concern. Too many college basketball players allow what really matters to suffer and fall apart because they allow too many distractions into their life. Whether it is friends, parties, video games, etc., you need to manage the distractions. There are always going to be people who want your time, and there is nothing wrong with taking a break and having free time, but don't allow these things to negatively affect you on the court or in the classroom.
"Is what I'm doing or about to do, getting me closer to my [true] objective?" – Robert Townsend
The Grind of College
The day in and day out grind of college basketball, school, and everything else that comes with it can sometimes be a lot, especially for freshmen. It is important, though, that you are ready for this and prepared to battle through it when it hits. There may come a time during the season when you feel mentally drained and fatigued; it happens to many players (even non-freshmen).
You must be first able to continue to fight through it, and then secondly, recharge yourself. Do what you need to do to get back mentally and physically to play your best. A big part of this is what you do off the court in taking care of your body. Spend the needed time stretching, getting preventive treatment, ice baths, foam rolling, etc. You must be willing to invest in yourself and take care of your body for the season's long grind.
Next Man Up Mindset
One of the great things about college basketball is the length of the season and the fact that no role is permanent. During the season, you may not be playing very much or have the role on your team that you want, but that doesn't mean you should pack it in and wait until next season. In fact, it means the exact opposite. You need to be working on your game and staying ready for when your chance comes. I can't tell you how many players I have seen that were barely playing at the beginning of the season and then played a huge role on the team by the end of the year. So always be ready to go if your chance comes.
"I don't complain about playing time. My job is to play so well the coach can't sit me." – Shane Battier
Understanding the Process
As a freshman, you are most likely going to have certain areas of your game that need development, and that takes time. Some of these deficiencies may even keep you from playing or having the role that you want with your team. It is important, though, that you understand the process and stay committed to getting better and developing. Not every college basketball player comes in as freshmen and has an immediate impact on their team's success. Whether you do or don't, though, you must understand that it is a process to get to where you want to be as a player.