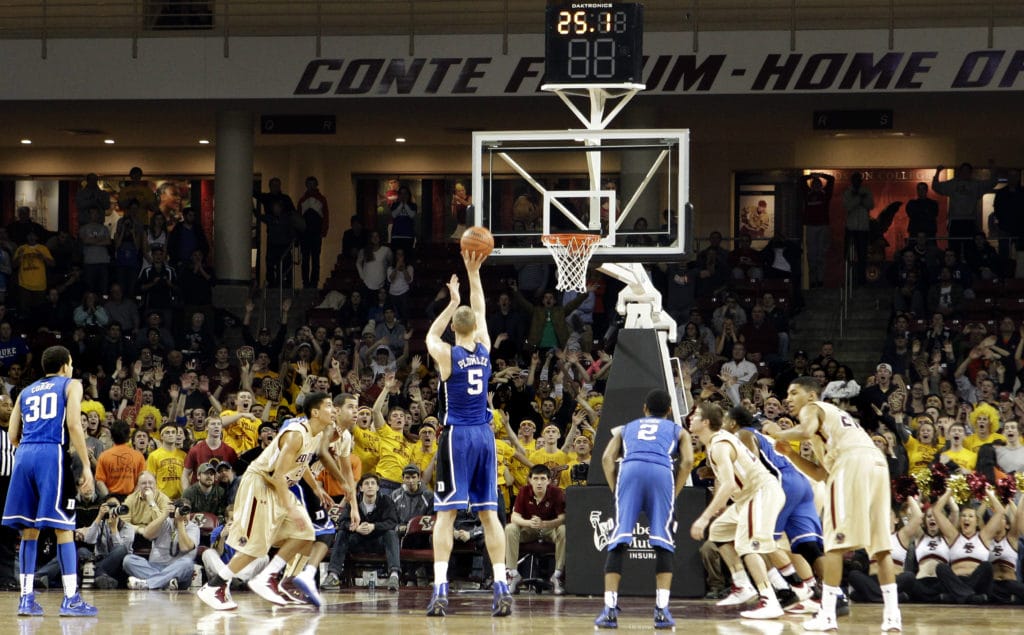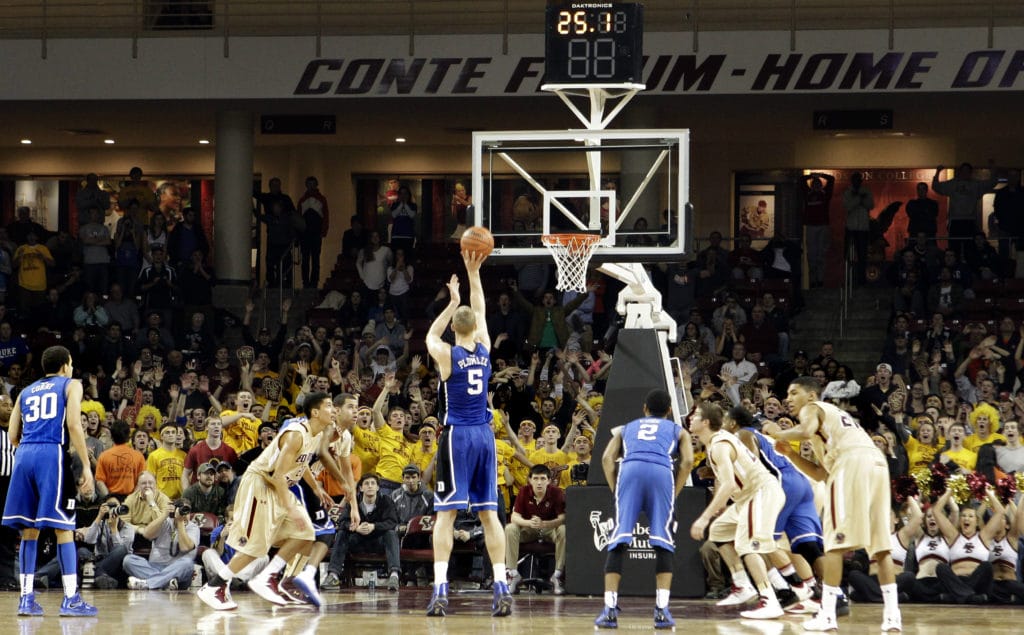 This basketball coaching article was written by University of South Alabama assistant coach Darnell Archey.
Free throw shooting in basketball will always be a separating factor from an average team to a good team or going from a good scorer to a great scorer. We can all recall numerous games where the outcome was decided by an uncontested 15-foot shot, called a free throw.
So improving this shot is a crucial basketball skill that all teams should master, which will ultimately lead to winning.
As a former college basketball player at Butler University, I connected on 85 straight free throws over three seasons, which set the NCAA Division 1 record for most consecutive free throws made.
To achieve this record, I had a lot of good fortune, blessed with God-given ability and hours of efficient and productive work in the gym. Along with these factors, though, there is a proven formula that can help any player improve on free throw shooting and help them become a great basketball free throw shooter.
Free Throw Basketball Shooting Routine
This is a no brainer; you must establish a free throw shooting routine that is comfortable and right for you. Many poor free throw shooters are not consistent in their routine and change their routine when they miss one or two free throws. I believe that this is the #1 key in developing muscle memory and shooting the basketball the same way every time.
My free throw shooting routine was to straddle the nail hole with ten toes facing the rim. I know this is unconventional because most of us were taught that if you are right-handed, you line your right foot on the nail hole.
I was taught this way because I shot the basketball straight up through my body and face, so my father wanted the shot to be directly square with the middle of the rim.
Some other nuances about my free throw:
I would place my right hand on top of the Wilson or Nike logo, with fingertips on the seam.
My knees were already slightly bent before I would start to dribble – less movement is a good thing.
I would take three dribbles and no spin.
After the 3rd dribble, I would set the ball and eye the rim.
I watched film on the 2015-16 top 10 college basketball free-throw shooters, and they all had varying routines. Half of them spun the ball, and some took 1, 2, or 3 dribbles, but the one consistent thing was they all spotted the rim before they shot and did the same routine every time.
It is crucial that you find what works for you and then master that free throw shooting routine.
Free Throw Basketball Shooting Repetition
Practice is obviously a must, but how you practice shooting free throws is also vital. There is nothing wrong with coming into the gym and shooting 100 free throws a day without breaking a sweat, but to me, that is not realistic and defeats the purpose of preparing your mind and body for game-like free throws.
At South Alabama, we shoot 40-50 free throws a day during individual basketball workouts, but we shoot them after a good 5-7 minutes of work. Between these 5-7 minute periods, we head to the line and shoot anywhere from 2-5 free throws. This helps the player simulate what it will be like during the game to shoot free throws. It also allows coaches to get a more accurate free throw percentage and gauge how well their players are shooting from the foul stripe.
Relaxation and Confidence at the Free Throw Line
I used to have these two words separated, but I now believe that they go hand in hand and complement each other. You cannot have one without the other. Besides having a routine and repetition, if you are not confident in your abilities and relaxed at the foul line, you will not become a great basketball free throw shooter.
Too often, players step up to the line with negative thoughts or very tense when they shoot. A demonstration I like to use with our players when teaching free throw shooting is having them clench their fists tightly and holding their breath for 10 seconds before shooting a free throw. Most will miss it because their body is not relaxed, and it's hard for muscle memory to take over when you are tense.
You must step up to the free-throw line every time with confidence and shoot a relaxed free throw. Trust the work you have put in and knock down your free throws.
Killer Mentality at the Free Throw Line
When you think of shooting free throws in basketball, having a killer mentality probably does not come to mind. Still, I believe this is one of the most important ingredients to becoming a great basketball free throw shooter and also what separates the elite shooters in basketball from the rest of the pack.
To become a cold-blooded assassin from the free-throw line, you must have the mental makeup that no matter the situation or environment, you are ready to step to the line and know it's an automatic two points every time.
This does not happen overnight or even in a few months of basketball training. I believe this takes place over the course of many seasons and is developed with the maturation process of a basketball player failing many times over. You must be willing to set lofty goals knowing you might fail, and continue to have a relentless pursuit of excellence to achieve your goals.
During my High School playing days, I set the lofty goal of breaking Steve Alford's consecutive free throw streak of 64 at my High School. I never achieved that goal, but I did get into the mid 40's. If it were not for that experience and falling short of my goal, I never would have set the record of 85 consecutive free throws.
My Favorite Free Throw Basketball Shooting Drills
Pressure Basketball Shooting – Must make a set amount of free throws in a row, or you run. This is old school, but it works and puts pressure on the player when shooting. Too many times, coaches just have their players make 1 or 2 in a row. This doesn't add enough pressure to the player shooting. Put some pressure on them!
My HS coach started with 5 in a row and got up to 20 one day. I loved it! I made all 20 and winked at him as teammates congratulated me.
Distraction Game – Whatever you could think of to distract the shooter, do it. My father did this so much to me that I would rather shoot in a loud gym than a quiet gym because it helped me focus in more on my shot.
10 in a Row – I would not leave the gym until I made ten free throws in a row. This was non-negotiable.
Close Your Eyes – Shoot 10 or so in a basketball workout with your eyes closed. It will help with your muscle memory and trust in your shot.
Positive Thinking Game – Make players think to themselves or count out loud how many in a row the next shot will be. Found this to help players relax and become more confident.
4 Keys to Becoming a Great Basketball Free Throw Shooter Conclusion
It may come as a surprise, but I did not mention shot mechanics as a key to becoming a great basketball free throw shooter. Mechanics do play a role, and you need to have some resemblance of good basketball shooting form, but it does not need to be textbook.
As long you shoot the basketball the same way every time, practice shooting free throws when you are fatigued, stay confident, relaxed, and most importantly, can handle adverse situations and environments, you are well on your way to becoming a great basketball free throw shooter.