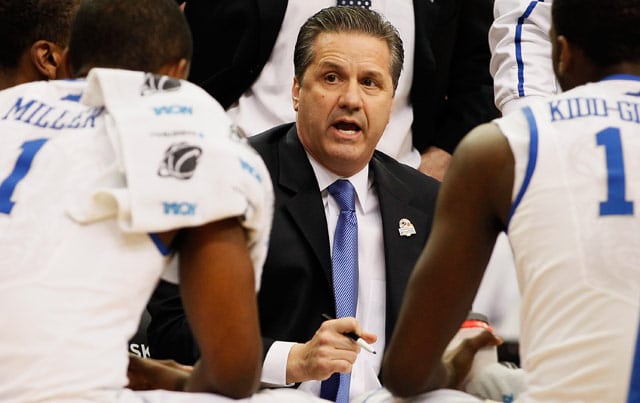 Knowledge is power and for basketball coaching this absolutely the case. The best coaches are the coaches that are constantly learning the game and growing as coaches. You are never going to know everything about the game of basketball. Coach K. and Phil Jackson are still learning about the game even today. As a coach you can either learn from personal experiences or you can learn from others experiences. It is usually a lot easier and quicker to learn from other coaches then it is to learn from personal experiences.
In today's world the internet has so much information, and sometimes it is hard to search through all of it and find what is worth reading. The goal of this basketball article is to review some of the best basketball coaching blogs out there and then let you decide what ones are worth your time. This list will continue to grow as I find more quality blogs and if you have found a good basketball coaching blog feel free to contact us.
Steve Finamore is the creator of the blog and he had this to say about his blog, "The blog will cover elements needed to improve as a basketball coach and player.  Stories, quotes, thoughts, comments, and strategy from basketball coaches/players who have worked the sidelines and played the game."
This blog does a good job of consistently adding new content. If you are someone that loves to try and read something new each day then this is a good blog for you. The posts are generally shorter but are still filled with good quality tips and resources for coaches.
If you are looking for articles on play breakdowns or written descriptions of drills this blog is for you. Coach Pat does a good job of breaking down specific plays in his blog. Being able to understand a play or a specific offense will allow you as the coach to better teach it to your players. This will allow them to know all the options on the floor and your offense will be a lot more fluid.
Tony Alfonso is the creator of this blog and he does a great job of covering a variety of different basketball topics. He also has several different guest bloggers which keeps the content fresh and from several different points of views. Reading and learning from different coaches is how every coach should decide on their own coaching style.
"This is a blog about coaching basketball and basketball in general. I have a deep passion for basketball and am going to use this blog to share that passion with others as well as expand my own knowledge and ideas. I might post Xs and Os, drills, coaching ideas, or just random thoughts on basketball. Enjoy!"   - John Carrier
Coach Sivils is the main author of this blog and he does a good job of covering a variety of topics. Basketball is more then just a game of X's and O's. Being able to communicate with your players and developing the right team attitude are just some of the areas that this blog covers, along with the strategies of the game.
If you are looking for a daily blog that is covers different aspects from the game of basketball check out this blog. Greg Dietel will cover topics from strategy to developing player toughness. Coach Dietel will help you learn how to think and understand the game of basketball and see things from another perspective.
Just as you would expect your players to continue to get better and develop, it is also important for you as a coach to develop and learn on a daily basis. Coach Bob Starkey will help you grow and develop as a coach. This blog covers more of the mental and motivational aspects of coaching, rather then the X's and O's. Being able to motivate and connect with your players is very important as a coach and this blog will give you some insight on doing that.
Basketball is more then just winning and losing, trying to come up with the best strategies, and teaching a player how to shoot a jump shot. It is about relationships and developing young men and women that are going to succeed in life. John Gordon's blog is great at providing insights into developing these areas as a coach.
Mental strength is a big part of the game of basketball as well as physical strength. Alan Stein does a great job of giving helpful tips about improving both your mental and physical strength in his blog.  If you are looking for workouts and ideas that are going to push your players to their breaking point than this blog is for you.
Working out and developing your players has become such a big part of the game of basketball today. Tim Springer does a good job of providing detailed instruction of workouts in his blog. He also does a good job of looking at team strategy and breaking down the offense and defense. If you are looking to develop your players or want to learn about basketball strategy this is a good blog to checkout.
This blog provides great tips for basketball coaches at all levels. Coaching is more then just the time spent on the floor coaching, it also requires you to deal with parents, the players themselves, AD's, etc. Coaching Basketball Wisely will give you helpful tips and help you to navigate the basketball coaching world.
Coach Sutton has been coaching basketball for over 27 years and he uses his blog to help share his coaching knowledge with the rest of the world. If you are looking for someone that has a proven winning record and has a lot of insight on the game and coaching this is a good blog to check out. Along with strategy Kevin Sutton talks about how to invest in your players and some of the other areas of coaching off the court.
Brian Williams is in charge of the coaching tool box and his goal is to provide coaches with all the tools that they need for the game. If you are looking for a diverse source of information that will cover a lot of areas of the game this blog is for you. His goal is to give coaches the tools that they need to win. His building blocks to improve your basketball team resource is just one of the tools that he provides coaches.
If you are looking for a great blog on developing team building and improving your team dynamic checkout this blog by Sean Glaze. He has some really good ideas and thoughts on tricks and strategies to developing a good team. As a coach you want to be able to make sure that your team is functioning at maximum capacity and this blog will give you some really good information.
If you are looking for a blog that covers a lot of different topcis from shooting confidence to offensive sets here is a great blog for you. Randy Brown is in charge of this blog and he does a really good job of keeping the material fresh and relevant. This is a great blog for basketball players and coaches of all ages and levels of play.
Having a constant source of new basketball plays, drills, etc. as a coach will help you be at the top of your game. Coach Pintar runs this basketball blog and if you are looking for some really good information on strategy, plays, philosophy, and so much more about the game of basketball it is worth checking out.
This basketball coaching blog is going to cover wide variety of topics from basketball breakdowns to different coaching resources. The blog is based out of England and is run by coach Troy Culley. He is an up and coming basketball coach in England and it is looking to share some of his experiences, and knowledge about the game of basketball.