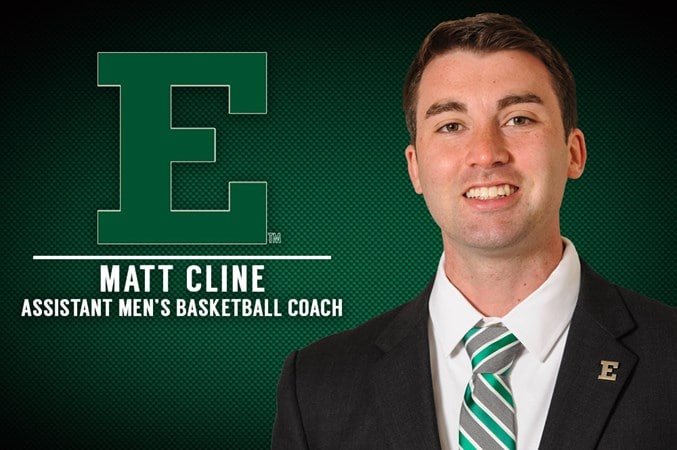 This article was written by Eastern Michigan Men's Basketball Assistant Coach Matt Cline.
When I meet a coach for the first time, and we begin a discussion on the programs we represent, one of my favorite questions I like to ask is, "What do you guys do best as a program?" Often, coaches who answer without hesitation have a clear understanding of their program identity, a firm cultural foundation, and a track record of success. Just as it is critical to establish a program identity, coaches must also institute their own self-identity. This promotes personal accountability and, as a result, improves their program.
There is not one precise blueprint for becoming a successful basketball coach. If there was, everyone would do the same things, have the same basketball coaching philosophies, and get similar results. I read a book last year titled "Getting to Us" by Seth Davis. This basketball book analyzes several high-profile coaches that have had consistent success in their career. After shadowing and interviewing each coach, Davis concluded they all possessed four common traits: Persistence, Empathy, Authenticity, and Knowledge (P.E.A.K.). Even though they had the same traits, each coach expressed them according to their own individuality. After self-reflection, I took these traits and put my own personal twist on them – vowing to reference them daily to hold myself accountable.
Basketball Coaching Philosophy Key #1 Persistence
Persistence is demonstrated by embracing your daily "mundane" routines and striving to become the best version of yourself. It is continually asking yourself: How can I improve? How can I challenge the team to improve? How can we gain a competitive advantage? For me, persistence is waking up each day with the same mission: focus on what you can control – work hard, do the right thing, and treat people the right way. Everything else will take care of itself. Don't worry about the future, but live in the present and do the best job you can do at your current program.
Duke men's basketball coach, Mike Krzyzewski, has said, "If you put a plant in a jar, it will grow to the shape of the jar. But if you put a plant outside, there is no limit as to how much it can grow." This bodes true for not only the players we coach, but for how a head coach treats their assistants. From experience, assistant basketball coaches grow the most when they work for a head coach that allows them the freedom to be suggestive, creative, and innovative in their contributions to the program. When persistent, self-motivated assistant coaches know they can bring an idea regarding a program improvement to the forefront, it gives them a sense of fulfillment that their role is imperative to the team's success.
Basketball Coaching Philosophy Key #2 Empathy
Empathy is the ability to understand and share feelings from someone else's point of view. Coaches are tasked with communicating, teaching, training, and engaging with a variety of individuals. While it is relatively easy to share ideas and beliefs with others, it is much harder to do it effectively with empathy – taking the time to listen, understand, and build trust. My experiences as a college basketball player, student-manager, graduate assistant, junior college assistant coach, and director of basketball operations have enabled me to understand all aspects of a college basketball program. These prior experiences have allowed me to "step into other's shoes" to understand where they are coming from and what they are going through. In order to operate at a high level, it is our job as coaches to instill a strong sense of self-worth for all members of the program. It would be remiss to think that one person's responsibilities are less than the next. Everyone in the program matters, and everything they do matters.
Urban Meyer said that you spell LOVE, T-I-M-E. It takes time and extra effort to develop deep relationships with the players, staff, and support staff. A simple method to reach your players beyond call, text, or conversation is to periodically write them an encouraging note. Think about how you feel when you receive a birthday card or note from a colleague in the mail. It makes you feel good! The thoughtful gesture of an encouraging note from a coach to a player at the opportune time will surely be appreciated. Furthermore, it may sound rhetorical, but get to know all of your student-managers and graduate assistants. Understand their story and what they want to accomplish after college. For as much time and dedication they give the program, they deserve to be heard and appreciated.
Basketball Coaching Philosophy Key #3 Authenticity
Being authentic as a coach is pivotal when recruiting student-athletes to the program and assembling the roster. When you are in the beginning stages of developing relationships with these young men, be yourself. Do not try to be someone you are not! They will be able to spot a phony in an instant. I'll never forget a story a recruit told me: He had a phone conversation with a coach from a school he was interested in. During the conversation, he said the coach sounded so scripted to the point that when he answered a question, he could tell the coach was recording his answer on a notebook or computer. This completely turned the recruit off to the school. He felt it was more so an interview than a genuine conversation. When you are authentic, recruits will appreciate you, connect with you, and respect you because you are yourself rather than trying to be someone you are not.
Coaches must also be themselves while communicating and teaching on the court. It is smart to take ideas from mentors you have worked under, but do not try to duplicate basketball coaching philosophies, as it will likely only work for a short period of time. It is not going to be sustainable long term because that is not truly who you are. Ultimately, being comfortable in your own skin is essential because authenticity plays a part in every decision a coach makes. Be real with others, and they will be real with you.
Basketball Coaching Philosophy Key #4 Knowledge
It is essential to be humble enough to admit there is always room to grow as an individual and a basketball coach. You cannot share knowledge if you do not possess knowledge. Coaches should constantly try to improve themselves so they can improve their players. We are supposed to educate our players and put them in the best position to be successful on and off the floor in the present and the future. Also, improving your knowledge allows you to become more adaptable in all aspects of the program, resulting in finding solutions to unexpected challenges and problems.
Refining your personal craft as a coach on the floor requires ample amounts of time to educate yourself. Coaches should strive to regularly attend basketball coaching clinics, read books, converse with coaches, visit other coaching staffs, listen to podcasts, etc. During April and May, attend as many clinics and watch as much film as possible. Challenge yourself to learn something new every offseason. Sometimes we have to get creative in how we gain knowledge. For me, I have taken a liking to podcasts over the last year. Instead of listening to music in the car on my 15-minute ride to work, I will listen to a podcast. Regularly seeking to learn and educate yourself is actually a selfless act – your entire program will reap the benefits.
Developing A Personal Basketball Coaching Philosophy Conclusion
If someone were to ask you today, "What is your personal basketball coaching philosophy?" How would you respond? Would you have to sit for a minute and think about it, or could you automatically communicate your beliefs? Challenge yourself to develop your own philosophy so you can establish personal accountability. I reflected on my own individuality and put my unique interpretation of P.E.A.K. and how it helped me become a better coach and person. Developing your own basketball coaching philosophy will help you become the best version of yourself for your personal and professional development, which, in turn, benefits your current program.