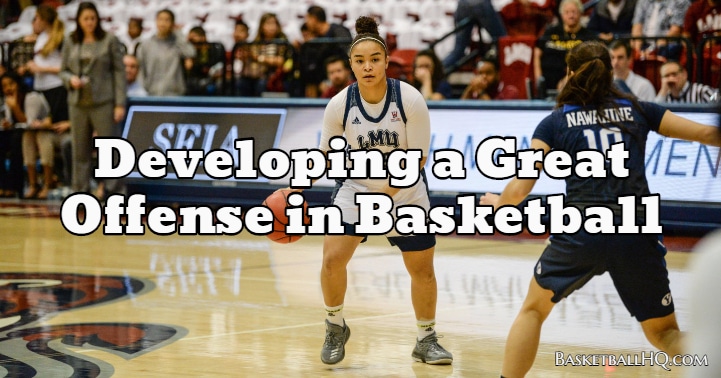 This basketball coaching article was written by LMU assistant women's basketball coach Taja Edwards.
What does a "Great Offense in basketball" look like, and what does it consist of? These are all questions that a coach or player would ask when looking to develop an offense that will win games. Well, it has been seen throughout time that a great offense can be made up through several different intangibles.
To have an effective offense in basketball, it takes great coaches, as well as great players. Another key is a great team defense because great defenses usually stimulate great offenses. Along with these basic foundations, I believe that some additional steps need to be taken before conducting a great offense. When you begin to cultivate your offense, you must consider your philosophy as a basketball coach and make sure that it fits your players and what you are trying to accomplish.
Offensive Vision
Doc Rivers, the head coach of the Los Angeles Clippers, refers to it as "Setting the Table." Coaches must have a vision of what their program will portray on the court and off of the court. Once you set your vision, you can begin the process of creating a great basketball offense. Without the vision, you will struggle to know what to do as a team and where your team should be heading.
Team Identity
Always know who and what you are; it will become your identity. Are you a basketball team that hustles, scraps, and wins all the 50/50 balls, or are you a team that is too cool for school? As a basketball coach, you have a considerable impact on what your team's identity is going to look like. You must be willing to develop your team's identity daily.
Basketball coaches must also know the personnel of every player on their team. Only then can you, as the coach, put them in situations to succeed on the court. For example, you will have to figure out if your team will be better at running up and down the floor on offense or if they will be better at using half-court offense to score. This is all determined by the identity of your basketball team.
Recommended: Check out these basketball competition drills to help build intensity and competitiveness in practice.
Filling Player Roles
Identify each player's role, and encourage your player's to be a star at THEIR role. Most basketball players see their value in how many points they score, so it is up to you as the coach to show players the value of filling other roles on the team. Once players buy into their roles, coaches must continue to add to the core of who they are. This cohesiveness can bring great chemistry to a program.
Offensive Style
You must ask yourself questions like: Who do you want taking the shot? Who is your most dominant paint enforcer? These types of questions will help you determine what type of basketball offense you want to have and what players to run your offense through. This goes back to getting your best players the ball in spots on the floor where they are comfortable and can shoot a high percentage shot.
Execution
A great basketball offense must have excellent execution. Create a culture of execution. Every day in practice, draw up "in-game" plays. When the game is on the line, you must be able to execute offensively. An entire season can be determined by how you handle end-of-game situations, so this is extremely key. You must execute when the game is on the line, and the way you execute will be determined by the way you prepare.
Manufacturing Points Within a Game
Lastly, you must have balance within your offense. You must be able to manufacture points within a game. During the 2013-2014 season, UCONN Women's Basketball averaged 5.6 offensive rebound points per game and 15.4 points off creating forced turnover's against their opponents. Needless to say, they had a "Great Basketball Offense." Whether it is points off of turnovers, offensive rebounds, fast breaks, etc., you need to generate points throughout the course of a game.
"Success is in simplicity – confusion brings doubt, limitations, and failure." – Kevin Eastman