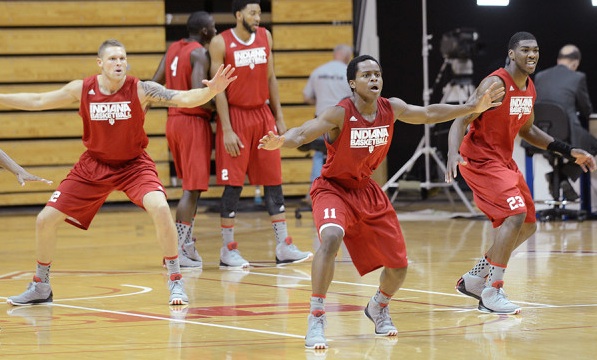 This article was written by Basketball HQ co-founder Kyle Ohman.
Team Defensive Key 1: Communication
Team Defensive Key 2: Be on the Same Page


Team Defensive Key 3: Attention to the Details
Team Defensive Key 4: Stay Disciplined
Team Defensive Key 5: Finish the Play
Resources: Basketball Rebounding Drills
Team Defensive Key 6: Energy Plays
Team Defensive Key 7: Compete
Resources: Basketball Competition Drills
Team Defensive Key 8: Protect the Paint
Team Defensive Key 9: Get Back in Transition
Team Defensive Key 10: Scouting Report
10 Keys to Team Defense in Basketball
Championship basketball teams play defense; it is as simple as that. There are great offensive basketball teams that can make runs, but if you cannot get big stops at the end of close games, your season will end shorter than you would like.
A high-level defense is not something that appears overnight either. It is something that takes time and must be built up and established daily. As a coach, you must be willing to do defensive basketball drills, hold players accountable, and preach defense regularly. You must be fully committed to the defensive process.
Regardless of what type of defense you play, these keys will apply to your team because they translate from scheme to scheme. There are ten keys listed above, but the one that blankets all of them is buy-in. Great defensive teams are bought into the system and do what it takes to play defense at a high level. It is not easy to build this defensive foundation, but if you stay committed to the process, it will be more than worth it in the end.
If you have any defensive tips or advice, feel free to share them below. Also, if you have any questions, we will do our best to answer them!