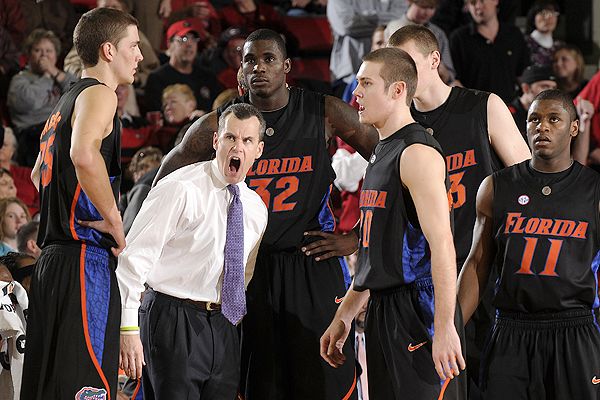 Bill Donovan is the head men's coach at the University of Florida. He has been able to turn Florida into a national powerhouse that makes repeated runs in the NCAA tournament and has also won 2 national championships in his time there. Coach Donovan has also coached multiple players who have gone on to play in the NBA, such as; Joakim Noah, Corey Brewer, Al Horford, Bradley Beal,  and several others. He is one of the best basketball coaches in the game today. Here are the basketball coaching clinic notes from when he spoke in 2010 at the Florida Basketball Coaches Clinic.
Basketball Coaching Clinic Notes
Preparing to Become a Head Coach
What does he do as a head coach on the day of the game?
Thinks it's crucial to find out the pulse of the team and pulse of the players on game day
No matter how much film you watch, how great your scout is, how sharp the shoot around is, etc., your team must be ready to play on the day of the game
From Pat Riley: Never be ready to play yesterday. Being ready to play today is what's important
Always evaluating and asking, "are these guys in the right frame of mind?"
Will often rely upon assistant coaches, strength coaches, and trainer to learn more about the pulse of his team
Will read the body language of his players; citing that players often communicate through body language
Allow players the opportunity to feel comfortable speaking what's on their minds
Will confront every issue. Recommends that you do it in a way that you are comfortable with, but be sure to confront important issues as they arise
Explains how confrontation is not always yelling and screaming, but it is necessary to get everything on the table
Always communicates openly and honestly
He does not know if this always works, but he will always address it
One of his biggest fears as a coach: an issue didn't get addressed when it needed to, it affected winning, and a 2-minute conversation could have prevented it
Every player has intentions. When the lights go on, players can change, and their intentions can change. It is important to understand players' intentions
The best players' intentions are to make the "next best play," whatever that may be
Not as concerned with a player's behavior as he is with a player's attitude. We can all monitor and correct our behaviors, but attitude dictates whether or not you've corrected the root of the problem
Know and understand the behavior of guys in the locker room on the day of the game. Different guys prepare differently for a game.
Also, be sure that guys understand that while you need to be yourself in preparing for a game, you cannot do so at the expense of others as they get ready to play
What is going on through your head during the game?
Rarely interacts with guys when they're coming out of the game if they are in a bad place
Will allow assistant coaches to deal with a player; especially if he's emotional
He never wants to have a blowup at the front of the bench
Will address any issue after the game
Always thinking about what he's going to do when things don't go well. It is more important to think about that (in practice and games) than it is to worry about the perfect practice plan or the perfect game plan
Always asking himself how he would deal with potential situations


Officials
Always wants to know who the officials are
Tries to create an open dialogue with officials based upon respect
He says that the worst thing he could have happen with an official is the guy to shut him off or won't deal with him anymore
Because if you treat an official with respect, they know they have made a mistake if you get upset
Respects when officials admit a mistake and will show them that respect
He thinks it's important to have a pulse on the other coach; especially if he's being very hard on an official
When you're seeing officials regularly, you want them to respect your program, and you want to maintain an open line of communication
Constantly talking to his players about how to handle the officials
Will be sure that the team is seen in a positive light and will have players apologize if they are in the wrong with how they treat an official
Chemistry issues in the game
Wants to know what chemistry issues exist within the team during the game
Will confront any issue right away
"We never want anything to get in the way of the team"
Looks at extra pass opportunities; if a player is missing shots, or if a player is down on himself
Assistants have a pulse on what is being said on the bench
Again, we're all about "getting guys moving together in the right direction and making the next right play."
Mentioned Bill Belichick. Asked him who are the hardest/easiest teams to prepare for in the NFL
Hardest teams can disguise what it is they do by making everything look the same
Easiest teams, "do what they do." You know going into the game what they're going to do