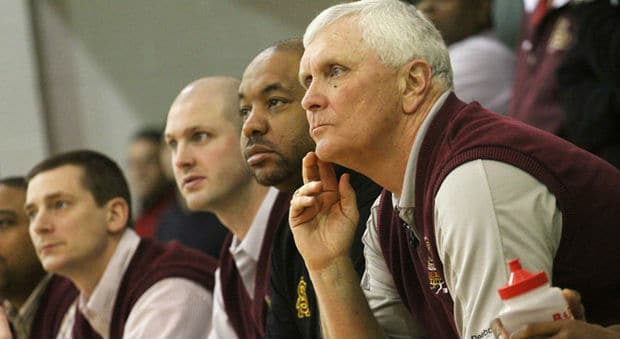 Bob Hurley is arguably one of the best high school basketball coaches of all time and is known for producing some really great college and professional basketball players. Coach Hurley coaches at St. Anthony High School in New Jersey and has over 1,000 career wins. These basketball coaching clinic notes are from 2013 and were taken by Justin Zachary. 
Basketball Coaching Clinic Notes
Special Situations
Have an option on one of your main in-bounds basketball plays, and save it for a late-game situation.
Save a component of special situations in most practices.
Have to get kids to understand how much time they have in 3 seconds.
Couch Hurley fouls up by 3 at the end of a game.
Know how many fouls you have committed and communicate it to the players. Don't want to waste fouls in the second half.
Doesn't trap much at the end of games; might trap a ball screen when a player is going to his off-hand or trap a right-handed player driving left down the baseline.
Knowing how many timeouts, and who has possession is huge.
Personnel will dictate all decisions and the experience of the group.
Spurs lost the world title because of poor execution at the end of the game.
Find your best under pressure passer and best late-game player; hopefully not the same player.
Doc Rivers has a silent practice where he doesn't speak, which forces his players to communicate with each other.
Thoughts on Defense
Double the Post 3 Ways:
Duke – All players collapse on the post. Will do this early in games against a great post player to take them out of the game. Many times if the post doesn't get touches early (especially in high school), his teammates will forget about him and stop going to him.
Michigan – Based on scouting. Find the worst offensive player and double the post with whoever is guarding him.
L.A. – Double off the biggest player.
3 Musts
Must work on transition defense every day.

As soon as the second player back crosses the first player back on defense, the top should attack the ball and force it left. Most teams run secondary offense to the right, so this will disrupt early offense.

Defensive Rebounding

Guards must rebound.  Their goal is 6 rebounds per game.

No Spurts
8 Minutes 5-on-5
Monday: No dribbles, and every 6 passes is one point. Every pass to post is one point. An offensive rebound is one point, and every basket two points.
Tuesday: Can add one dribble; it really helps players with passing and handling pressure. It gets your defense used to pressure as well.
Other Thoughts
He wants balanced scoring so teams can't key on one player. Will take top scorer out of the game first in a blow-out win, so teams are less likely to key on one player in future games.
Your best player must also be a great passer.