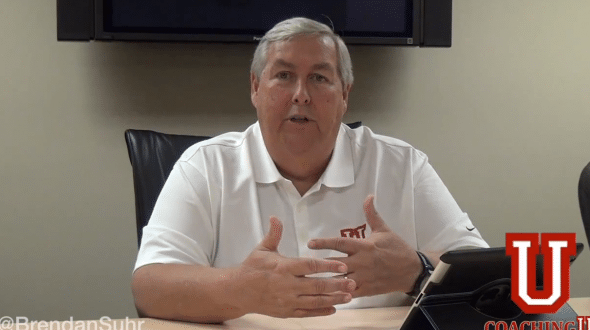 Coach Brendan Suhr is known worldwide in the basketball coaching industry and is one of the main faces of Coaching U. He also has been around the game of basketball for a long time and has been a part of some outstanding basketball teams over the years. A couple of those teams were the Detroit Pistons when they won back to back championships, and the other is the original USA Dream Team.
Along with coaching on some outstanding teams, he has also been able to coach and develop some excellent basketball players. All of this has allowed him to be considered one of the experts in the game of basketball today. These basketball coaching clinic notes are from when he spoke at the 2013 Coaching U basketball clinic.
Basketball Coaching Clinic Notes
Brendan Suhr Coaching U: Ethics and Integrity in Coaching
Who is your favorite coach?
Could and should be the most influential person in your life
What made them extraordinary?
Prepare – give them the knowledge to succeed
Coaching is stealing/sharing
Crisis of character in coaching/ no baseline criteria for coaches at this time
You learn from who coached you….who did they learn from????
What was acceptable in the past is not acceptable now
Book – Inside Out Coaching
Transformational vs. transactional coaches
Transformational teach players how to grow up and be men and women


What are the characteristics of our profession?
Honesty/integrity 2 most important parts of leadership
Goes both ways
Do we love our players?

It has to be unconditional
Love them all the same

Caring for them
Embrace the mistakes/ teach them how not to make the mistake
Safety – players must feel safe at all times
"I" brand – you do something wrong, your brand is ruined
Can't yell and scream in a demeaning way
Shout praise, whisper criticism
We can't win without the players
5 Questions to ask yourself
Why do I coach?
What is coaching?
Why do I coach the way I coach?
How do you think it feels to be coached by me?
Would I want to play for myself?
Must be a truth-teller to your boss (respectfully)
Need to create buy-in
Players must believe it and in you
Can't do this without great relationships
Must reach into your player's heads and hearts
As the leader goes, so goes the team
What is your basketball coaching philosophy toward your players?
What is your team culture?
Don't let anyone stop you from being extraordinary