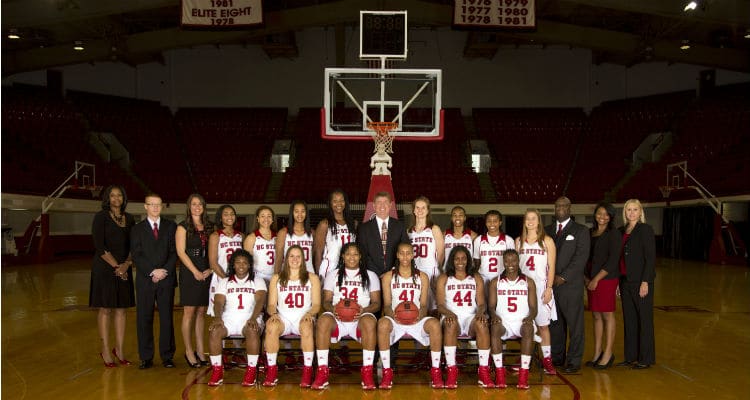 This basketball coaching article was written by North Carolina State's Mike Murray. Coach Murray is the Director of Basketball Operations for the women's basketball team. Before joining the Wolf Pack in 2013-14, Mike was an assistant women's coach at Tennessee-Chattanooga for 7 years. Mike brings a wealth of knowledge from the assistant coach position and basketball in general. 
Basketball Coaching Role
Working for Wes Moore for the past seven years, alongside Nikki West, who has worked for him for the past ten years, I have come to appreciate the value of loyalty and its impact on a basketball program's success. Loyalty plays a major role in our profession.
Assistant coaches need to understand that it is the head coach's basketball program, and they are there to help the head coach succeed. You need to support the head coach in all decisions and help them fulfill their team's vision. Everything you do as an assistant basketball coach is to help the head coach and the program succeed.
Basketball Team Culture
Establishing a culture is vital to the success of a basketball program. Clear team policies and values that will not be compromised need to be set by the head coach and enforced by you every day. Make these policies and values part of who you are, not just things you hold the players accountable for.
People will come to you and ask a question regarding the day-to-day operations of the basketball team. Support the head coach and give the appropriate answer regarding team policies. By supporting the head coach's values, you will show loyalty to the program. Be an extension of the head coach every day in everything you do.
Anticipate the Needs of the Head Coach
When you have worked for somebody for a while, you get an understanding of what things the head coach does not like to do. You will know right away what these things are, and you need to make sure these things get done by you first.
Try to anticipate the needs of your head coach; do not wait to be asked to do something. The more you take off the head coach's desk, the more faith and trust you build and the more valuable responsibility you have.
Constructive Input
Do not be a "yes man" all the time. As you work longer for somebody, you may get more comfortable expressing your opinions and ideas. Have an opinion, make your point, but never argue it. Be able to recognize the difference between making your point, supporting your point, and arguing your point.
If you are fortunate to work for a head basketball coach that values your opinion and a professional debate, be extremely careful not to walk over that line by interjecting the emotion of arguing into the mix. Arguing leads to conflict and eliminates trust.
"The game is my life. It demands loyalty and responsibility, and it gives me back fulfillment and peace." — Michael Jordan