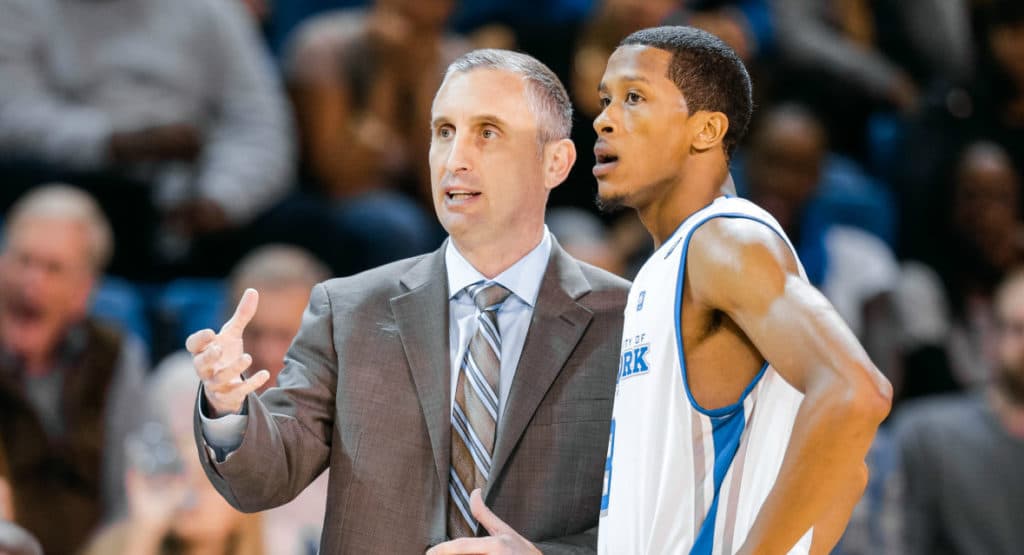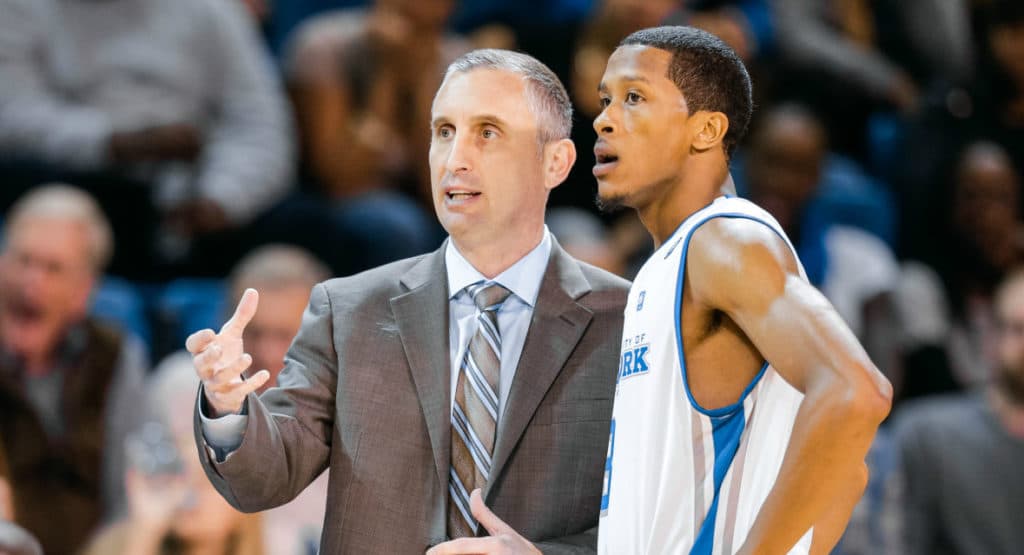 This basketball coaching article was written by Chatham University head men's basketball coach Andrew Garcia. 
Many different relationships exist within a basketball program. By far, the one that matters the most is the relationship that the head coach shares with each basketball player on his team. Among many other factors that make a difference, strong relationships are what separate successful teams from unsuccessful teams.
In many cases, this very factor can allow a basketball team to go on a deep run in March or hold them back as the pressure builds. In a team setting, trust is built behind the scenes in the form of innumerable conversations, teachable moments, overcoming adversities, and hard work in practices. Outsiders often do not see these relationships develop throughout the season. On rare occasions, we catch a glimpse of what these relationships truly mean – Bob Huggins comforting Da'Sean Butler after he tore his ACL in the 2010 Final Four comes to mind.
Some basketball teams just exude trust in each other. In the past, we have seen this in the form of the Wichita State Shockers. You cannot quite put your finger on it, but there is a hidden factor that bonds those players together and pushes them toward success. Without ever spending time with that team, there is no doubt in my mind that they have great relationships with each other. You can see it in their play.
Ultimately, it comes down to a belief system. Every basketball coach has his or her thoughts on what that belief system may look like and how they choose to impart those beliefs to their program. I was introduced to an idea that can help tremendously in building the relationship between a coach and every player on his or her team, and I would like to share that with you.
The "One Per Day Rule"
I have to credit Greg Shelley, professor of Sports Psychology at Ithaca College (NY), for explaining this idea to me and encouraging me to try it. The concept is that a basketball coach should make it his mission to seek a strong connection with at least one of his players per day by engaging in a meaningful, one-on-one conversation. 15 to 20 minutes is all it takes.
If you meet with one player per day, you can get through an entire 14-man team in two weeks. A typical college basketball season lasts around twenty-two weeks, so you can meet with a player 10 or 11 times throughout the season and many more if you choose to meet with more than one player per day. Add up all this time, and there is a potential for nearly four hours of face time for every player on the team.
Think about it. How often do basketball coaches and players sit down and actually have a constructive conversation during the season? I am not talking about a meeting where the coach just gives a player a list of things that he is doing wrong and proceeds to "talk at" the player the entire time. By constructive, I mean an open dialogue where both sides can address the positives and the negatives of what is going on in the program. Many coaches cringe at the idea of a player speaking his mind in a meeting.
However, if parameters are set, and it is understood that these conversations are designed to make everybody better, then there are a wide range of benefits that may occur. As I went through the process of applying the "One Per Day Rule," I learned a great deal about my players along the way. Here is what I learned.
The Benefits of  Frequent One-on-One Meetings
1)      You Know What They Know. You Know What They Value – The more you let people talk, what they value the most comes to the surface. You just have to do some hardcore listening and frame more questions and conversation pieces based on the highly valuable information that they are providing. You can see what makes them tick. Who is the most important person in their life? Who is their best friend? What troubles are they experiencing daily? Thought-provoking questions designed to get the player talking about their experiences are a great way to establish a basic connection.
2)      You Help Players Create a Compelling Vision for Their Future – Most basketball players are ill-equipped to see their potential, especially when it comes to their own leadership abilities. Despite the large egos that many may possess on the surface, many are followers in a social setting. These meetings are prime opportunities to help a player realize that he can significantly influence the other players on the team. Confidence can be built. Strategies on how to develop powerful habits can be outlined.
3)      You Promote Your Belief System – This is also an opportunity to infuse the entire basketball team with the ideas that you want to become core beliefs in your program. The message that you can send in these meetings can be a powerful reminder of the message that you deliver to the entire group daily. In this setting, you can be sure that it is heard and not misconstrued.  
4)      The Relationship Becomes Stronger – I have found that when a player believes that you want the very best for him in life, he will go the extra mile for you. Effort and concentration levels go way up. On days when I would meet with a player before practice, guess who was in the front of the line for every breakdown basketball drill that day? Eyes locked onto mine when I went to make a coaching point in practice. A positive attitude was maintained for the entire basketball practice. These meetings made teaching and coaching easier on the floor because the relationship was stronger from it.
Who Can Adapt?
I have to admit, I ran into some trouble at first. Players, especially the younger ones, had difficulty conveying their thoughts. The coach to player barrier was up for many of them. Some of the players just did not have very much to say or did not feel comfortable with the meetings. As time went on, however, the dialogue became better and better. By the time the third and fourth meeting rolled around, the conversations took off.
What I have learned in my time as a college basketball coach is that success is often based on a coach's capacity to adapt. Many coaches in other sports have adopted these same strategies. Clint Hurdle, the Pittsburgh Pirates Manager, employs an approach called "3 Up, 3 Down". He asks players to share three things going well and three things that are not. This is a way for him to hear from each player regularly, even if it is uncomfortable for them at first.
Similarly, Kevin Sumlin, Head Football Coach at Texas A&M, uses a technique called "The Truth." Every Monday morning during the season, coaches and players are allowed to "air out the dirty laundry" from the previous weekend. These discussions can be intense, but the idea is to reinforce expectations and build on the entire team's improvement.
The big idea here is – why wait for something to go wrong to have a meeting? I have trouble listening to coaches that complain about today's basketball player being entitled and lacking respect for the game. Some go on and on about players' inability to follow instructions or the lack of character and pride in their team. While this may be true of some basketball players, coaches are often unknowingly undermining themselves by refusing to listen.
The "One Per Day Rule" offers a solution to close the gap between the basketball coach and his players and build stronger relationships. Maybe we should start employing more of these strategies.