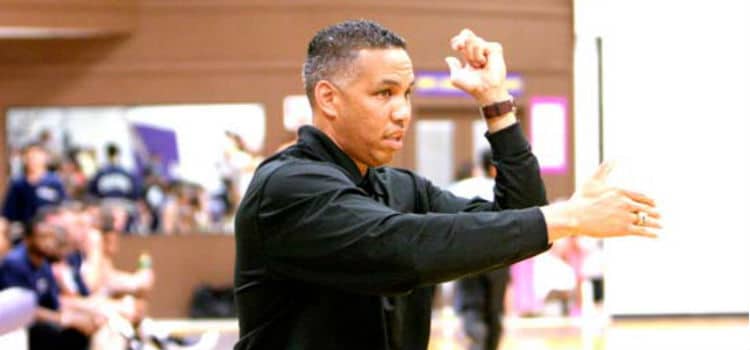 This basketball coaching article was written by Georgetown University assistant men's basketball coach Kevin Sutton. Kevin has over 25 years of coaching experience at the college and high school levels and has worked with hundreds of division 1 and professional basketball players.
Coach Sutton has also recently produced an eBook with some of his best basketball drills in it. The Multiple Effort Offensive and Partner Scoring Drill eBook will help your players reach their maximum potential and really help to improve your overall team play. The eBook has over 20 different drills in it. Check it out today!
Thoughts on Leadership
I was having a conversation with one of my "Living Trophies" – Nate James, an assistant coach at Duke University, the other day. One of the topics we discussed was Leadership. Interestingly enough, Nate was one of the best leaders that I ever coached. Now he wants to be a great leader as a basketball coach. He will be!
Great Basketball Teams and Organizations Have:
A Visible Bond
Chemistry
Synergy
Trust
Respect
Accountability
Honesty
Love for Each Other
Confidence
A Toughness
Maturity
Alliance
Awareness of Who They Are, What is at Stake, and the Magnitude of the Moment.
Conflict Resolution Skills
Leadership is not a "sometime thing" it is an "all the time thing."
Leadership has to be addressed daily. It must have a level of reinforcement, either positively or negatively.
Leadership is about consistency. People will follow if:
They trust the leader.
They believe in the leader.
They know that the leader is consistent in his actions and words.


Great leadership has 3 types:
Vocal
Example
Combination of Vocal and Example
Leadership has to be born out of a "Safe Environment" where the
Lines of communication are open.
Trust is valued.
Honesty is important.
Accountability is expected.
Collective responsibility to the team's goals is paramount.
Leadership is an "Action" position. To lead, you must:
Act on your instincts
Speak and mean what you say
Do what you say
An essential part of Leadership is "followship." Followship is the willingness to be lead because you "believe in" the leader, which leads to "buy-in." Followship is about trust.
It is important to create leadership/followship opportunities as often as you can:
Final Thoughts on Leadership in Basketball
Every person is a leader, first to himself and then to others.
A leader is a person who has heard the call to lead and to step up and has chosen to answer that call.
A leader's willingness to fail is often overshadowed by their fear of failure, which often propels them to victory.
Being a leader can be a lonely position. One must fill their own bucket by knowing that whom they lead and what they lead are moving in the desired direction.
Leaders need to have vision. They must sell their vision. Their vision will get others to want to follow.
Make sure that you check out Coach Sutton's eBook; it has over 20 basketball drills in it!