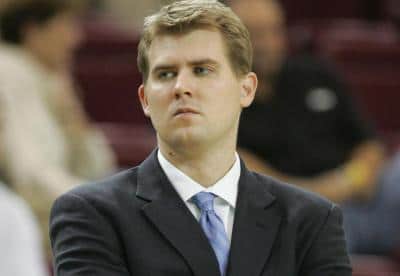 Dustin Kerns is an assistant men's basketball coach at Santa Clara University and is in his third year with the team (12-13). Before joining the Broncos staff, he coached at Wofford University in South Carolina. Coach Kerns has become an important part of the coaching staff at Santa Clara and has proven himself as a recruiter and coach. Here are his basketball coaching clinic notes from the 2010 Rising Coaches Clinic.
Basketball Coaching Clinic Notes
Trust is very important.
Head Coaches want to hire guys they can trust.
This is an ultra-competitive profession.
Use that as motivation for success.
We are all replacements. Are you replaceable?
Be thankful for the job you have right now.
Don't chase jobs.
If you spend time chasing jobs, you can't do your current job as well as you can.
The job you have now will make you a better coach.
Be relentless, be creative, and be proactive.
Wear people out.
Not only make relationships but build them.


Stay organized, and make a calendar to follow it.
Failures are the best way to learn.
But don't let others know you've failed.
You've got to love recruiting and love it every day.
Email AAU & HS coaches and follow up with them often.
Trust your own eyes with recruiting.
If you like a kid, don't over-analyze him.
Keep stats and shot charts on a kid when you are recruiting.
Do not waste your Head Coaches time.
If you like the kid on tape or in-person AND he shows interest in the program, that's when you bring the Head Coach in.
Does the recruit affect winning?
Is he tough? Competitive?
Does he love to play? Does he love the game?
Study what other coaches are doing on the road.
"Your choices are determined by your voices (in your head)."
Find ways to brand yourself.
Not just as a "hard worker."
Always be learning!
Go watch other teams practice.
Constantly be reading and learning.
Winning Takes Care of Itself. – Bill Walsh
The Winners Manual. – Jim Tressel