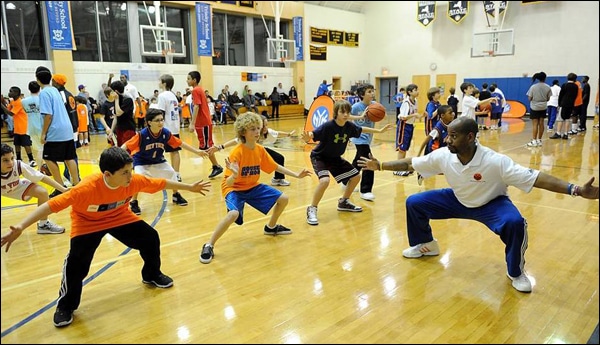 Whether it is a basketball camp or in training, you may need a few fun basketball drills to keep your younger players excited about getting better and working hard. These drills will help to break up the monotony of the workout. This doesn't mean that the entire basketball workout needs to all be fun basketball drills, but they should be mixed in throughout when you are working with younger players.
Sometimes we hear the word "fun" and think that there is no way to get better while having fun, but that is not the case. There are plenty of basketball drills that you can use to help the player get better, challenge them, and allow them to have fun at the same time.
The coach also has a lot to do with whether a basketball drill is fun or not. If the coach has high energy and is promoting the drill in a fun way, the players will respond and feed off of that energy.
Why Fun Basketball Drills?
When doing basketball training with younger kids, it is important to remember that they are still developing a love for the game aspect of basketball. That is why it is important to mix in fun basketball drills that the kids can do and teach them the fundamentals. This will help prevent the player from getting burned out and help them develop a deeper love for the game.
The flip side of a player burning out is one that never got taught any of the fundamentals when they were younger, and when they get older, they are not good enough to play on their basketball team. All their time spent in the gym when they were younger was just having fun playing games. They missed out on key growth time, which is bad, just like the first option where the players burned out.
List of Fun Basketball Drills
There are always games like knockout or dribble tag that you can have your kids play, but those types of games don't really work on any specific basketball skills. This list of fun basketball drills will work on a player's skills, but they are also going to be fun for the player(s) to do.
Partner Tennis Ball Basketball Dribbling Drills: Adding a tennis ball and a partner to your basketball dribbling drills helps to keep the drill new and exciting for the players. The players will have to communicate with each other and work together to execute the drill correctly. This will allow the players to push each other and challenge each other to get better while having fun.
Beat the Pro Basketball Shooting Drill: There are many different basketball shooting drills out there to choose from, but what makes this drill fun is the competition aspect of it. The player will shoot against the "pro," which is actually their misses, and this will give them a challenge to beat every time they do the drill.
Competition Basketball Drills: Players love competing and doing little games inside of the drill. So whether it is a cone dribbling drill (video below) or a tennis ball toss drill that challenges players to go against each other will work great. It is up to you as the coach to promote the game aspect of it and get your players excited to compete.
Have there be a prize for the winner or a punishment like running of doing push-ups for the loser, it is really up to you as the basketball coach. Just remember, though, that you set the tone for the drill or workout. If you feel that your players are dragging, try pumping up the energy. They will feed off of your positive energy, and the workout will take a turn for the better.
Fun Basketball Drills Conclusion
It is important that whatever basketball drills you decide to do with your players, you keep them rotating and fresh. Players don't want to do the same drills every day because they get redundant. There is almost always going to be excitement over a new drill introduced, especially if it is introduced the right way by the coach.