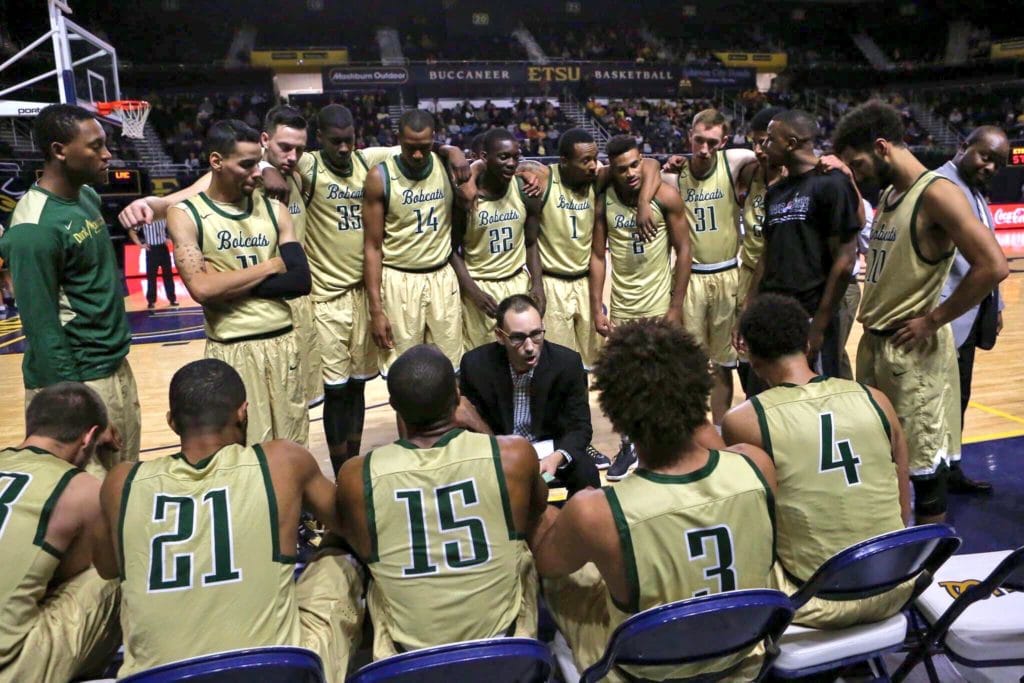 This basketball coaching article was written by Lees McRae Head Coach Steve Hardin.
As a head basketball coach, you always want to learn and improve. You should never get to a point in your career or even life in general where you think you know it all. As an assistant coach, your job has many roles, but one of the main ones is consistently adding value to what you offer the head coach. This basketball coaching article will give five ways to improve as a head coach and five ways to increase your value as an assistant coach.
5 Ways to Improve as a Head Basketball
 

Coach
Servant Leadership
"Success is never owned. It is rented, and the rent is due every day." Your basketball players and staff must know that you will do whatever it takes to be successful. Also, they must see you putting in the time and know you care!
Simplicity with Continuous Repetition
Know your basketball program's philosophy and stick to it. You can know everything about basketball, but if you cannot teach it to your players, your knowledge becomes worthless. Repetition makes sure your basketball players and staff understand every detail about the program and what you want from them. When there are clear expectations, it is easy for coaches and players to achieve what you require from them.
Understand the Basketball Team
Every basketball team is different. Communicating with each member and making sure every player is on the same page is vital. This will create a bond that will be bigger than just basketball.
Empower Your Assistant Coaches
Teach, guide, and listen to your assistants. Give them a platform to help you be successful. Work together as a unit and move forward through every obstacle as one force. Spending time with them outside of the office and practice is essential. It brings the staff closer together, which is major in the eyes of the players. As a head coach, you also should help your assistants get to the next step in their career. Empower your assistants and give them opportunities to succeed.
Have Substance
Always practice what you preach. I believe in being a positive light. A consistent upbeat coach will help to guide everyone in the way that they should be going. Remember, we are developing young men!
5 Ways to Add Value as an Assistant Basketball Coach
Be Ready to Work Every Day
I mentioned earlier that success is not owned. This means that you need to have the mindset of outworking everyone in your profession. If we want our basketball players to outwork everyone, we must be willing to do the same! Time is our most precious value – be the first one in, and the last one out of the office.
Be Loyal
Understand how the head coach works. Teach his way with the same verbal cues. You can be the sounding board for the players, but you must always protect the program by protecting the head coach.
Understand Your Role
Know precisely what your role is from the head coach and execute it to perfection. Listen and understand the head coach's plan and what each player's role is for the team. This will allow you to clearly communicate with players what is needed of them by the head coach. As an assistant basketball coach, you need to be an all-star in your role.
Be a Student of the Game of Basketball
Listen and learn the game and the head coach's philosophy in all aspects of the program. You must be in tune with the player's needs. Keep detailed notes on everything. Study how the head coach handles every situation, good and bad. Go to basketball coaching clinics, go to other team practices, build relationships with other coaches across the country. This has become much easier with social media. Read leadership books, coaching articles, and other educational pieces to help keep your mind fresh.
Make the Head Coach's Job Easier
Take pride in being an assistant basketball coach and doing all the small things exceptionally well. Even though you strive to "move up" in the coaching ranks, make the current job your total focus and do that to perfection. You are a valued member of the program and treat your job that way. Take anything and everything off the head coach's plate that you can do so he/she can focus on being the head coach.
Improving and Adding Value as a Basketball Coach Conclusion
The best basketball teams and programs are filled with people who know their roles and can execute them at a high-level. So whether you are a head coach or an assistant coach, it is up to you to buy into your role and do whatever is needed to help the team be successful. Start by using these five keys for both assistants and head coaches, but build on them and fine-tune them to what is going to allow you to be your best. Good luck with your coaching pursuits and journey!