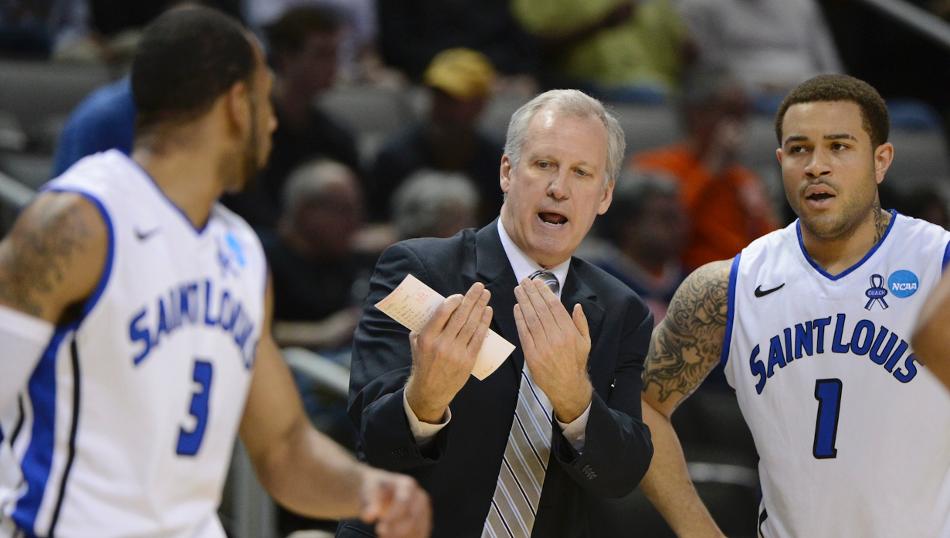 Former St. Louis men's basketball head coach Jim Crews will talk about some of the different things he has learned from his coaching experiences in these basketball coaching clinic notes from the 2016 Rising Coaches Elite Clinic.
Basketball Coaching Clinic Notes
Sometimes this business is about the wrong things.

Competition should bring out the best in us and help reveal who we are.

Answer questions about WHY we do what we do.

This business is filled with landmines.

The devil can make you busy but not bad.

Get rid of the clutter in your life.

Physically, mentally, and emotionally you must be at your absolute best every 3 days (games).

The supply and demand are out of whack… be grateful for every opportunity.

No one is immune to criticism.

Do the best you can… people will complain regardless.

Some think you can walk on water and others will think you can't swim. 

Be a coach to these guys, not a friend, but one that loves them unconditionally.

The world needs better men, not better coaches.

Life of significance vs. a life of success.

Define success to yourself… do it by DESIGN…not by DEFAULT.

In sports, we have the instantaneous stimulus with wins and losses… that's not life.

Swing set with your kids or playing cards is an investment that pays off years down the line.

Are you a truth-teller or not? You have to be able to tell yourself the truth first.

Slow down to define your personal success.

What we continuously do is who we are.

Will you treat people as people or objects? HAVE COMPASSION for people.

Know the power of EVERY day.

Have a game plan and be ready to execute daily… keystone habits.

Secret service members park their car facing out EVERY NIGHT… just in case.

Every time we say "yes" to something, we say "no" to our family.

Don't protect your Head Coach by not telling them the complete truth. 

Eliminate the clutter for him.

Bring solutions to the table, not just problems.

Don't let others steal your joy.

Have great staff chemistry… appreciate the differences you each have.

Head Coach's mentality happens before you are a Head Coach.

Don't be in a hurry to climb the ladder! Learn the trade, not the tricks of the trade.

Write out in detail your program (inside and out).

Never come home mad – are you running your job, or is your job running you?

Your family's emotions shouldn't be tied up with yours.

Your recruits shouldn't get more calls, texts, or notes than your kids.
We are all one step away from success and one step away from failure.

We are the problem and the solution.