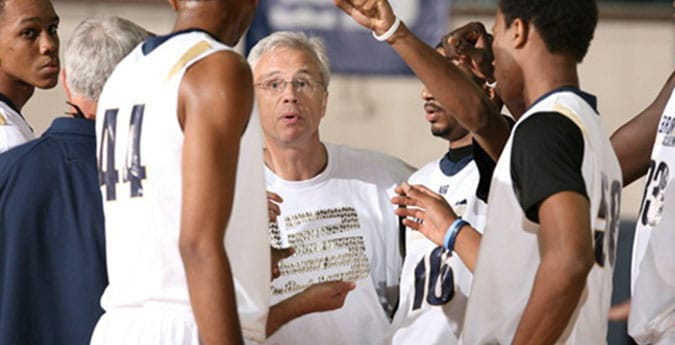 These basketball coaching clinic notes are from when Kevin Eastman spoke at the Coaching U Clinic in 2014. Coach Eastman is an assistant coach for the Los Angeles Clippers and has been a part of Doc Rivers's coaching staff for years. He is also one of the co-founders of Coaching U. The notes were taken by Jacob Collins.
Basketball Coaching Clinic Notes
Concept of money and coaching.

"The money will find you if you are good."
"It's not how much; it's who."

Networking vs. Relationships.

Networking is just a number.
Relationships are built over time.

He spends one-year giving information to someone before asking for something in return.

Players that challenge something.

"It's not about you being right all the time; it's about us getting it right all the time."—Doc

3 sets for development.

Skillset.
Mindset.
Reset—self-evaluation.

Jim Rohn.

"Success is a few simple disciplines practiced every day."
"Failure is a few errors repeated every day."
"Earn your leadership every day."




"When times are tough, leadership is about responsibility, not invisibility."— Keven Eastman
3 things you will have.

Setbacks.
Obstacles.
Failures.

3 things you will be.

Challenged from the inside and out.
Critiqued from the inside and out.
Criticized from the inside and out.

Is your basketball coaching philosophy strong enough to withstand failure? Pressure?
Roles.

What we are asking you to do.
Value of its (the role) place on the team.

Be an All-Star in your role.
It's so important it's what we need you to do for us to win the Championship.

Body language—the only window to what we think you're thinking.
Ask your players—"How come you get pissed when you miss a shot, but not when your guy scores on you?"—Doc
"Your reputation is at stake: are you a competitor or a showman?"—Doc
Don't let the tone of the message keep you from getting the meaning of the message.
The best team sees the game the way the coach sees the game.
Leadership is a battle for "mind space."

Also, a battle for the heart.
The best way to the mind is through the heart.

3 musts of coaching.

Put out fires.
Put gas in their tank.
Refocus their lens.

There are no longer problems—there are challenges and competitions
Docism's.

"Winning teams are clutter-free."
"Guys, we will not win until you drop the wall and let me in."
"He who angers you; owns you."

Do things for each other, not to each other.
Must enforce the emphasis.
"Each game I only have so many bullets."—Doc
If players feel you're only interested in wins, they won't fight for you.
In your system, can you break the rhythm of the other team?
Immature players—deal with them or constantly be pissed.

Can you coach the talented player?

Confidence is contagious.
Weakness is exposed by the top 6 teams.
Each new season is about the players you have, not the ones you lose.
"Champions get punched too."—Doc
Never compromise your team's culture.

Must confront a breach in your culture immediately.

How many "tell the truth," guys do you have on your team?
Assistants—90% evaluation, 10% emotion.
The basketball drills you do in practice should show up in the game.
Players want to win on their terms.
Clipper Situation
Got through it because of Doc.

Great coaches start before they start.

The truth will only be heard if a relationship has been built.
4 key relationships on a championship team.

Players have to like, trust, and respect players.
Players have to like, trust, and respect coaches.
Coaches have to like, trust, and respect players.
Coaches have to like, trust, and respect coaches.

Some guys don't buy-in they give-in.
The Power of Words
7 critical statements made in a 72 hour period of the Clipper situation.

Value of words chosen wisely.

1st thing he said to the workers when he took VP, "My title does not mean that I know it all."

No more turfs; there is just one turf.

One-shoulder—piss poor organization.
Open shoulders—inviting.

Change.

Have to make it work while you see if it works.
Not about me; it's about us.

Trust needs 3 things.

Time.
Consistency.
Proof.

3 things of truth.

Live it.
Tell it.
Take it.

3 things to improve right away—CEO.

Communication.
Efficiency.
Organization.

Communication.

Keep people in the loop.
Never put someone in a situation that they look dumb.
Talk to people, not at them.
No whisperers (kills team).

4 C's of culture.

Character.
Class.
Commitment.
Communication.

Not fear we should worry about, it's danger. Danger is real; fear is a choice.

If you fear failure, put equal fear to never trying.

Made seven index cards and gave them to Clippers staffers and said put these in order of importance

Group of 4—order = Players, staff, employees, fans.
Group of 3—order = championships, 1st class reputation, revenue.
Most important things = players and championships.

About PLAYERS and winning CHAMPIONSHIPS.

Team = visible ingredient of success.
Coaches = invisible ingredient of success.
Once he took over as VP of Clippers, he did these things.

Not spending money on average.
Not restricting new ideas.
Not living in fear.

When it hits the fan, the first thing you have to do is turn the fan off.
4 core beliefs.

Every decision is based on right vs. wrong.
Care and concern for others.
Total honesty.
Do your job.

The truth never allows us to question what we said.
Truth stands the test of time and inquiry.