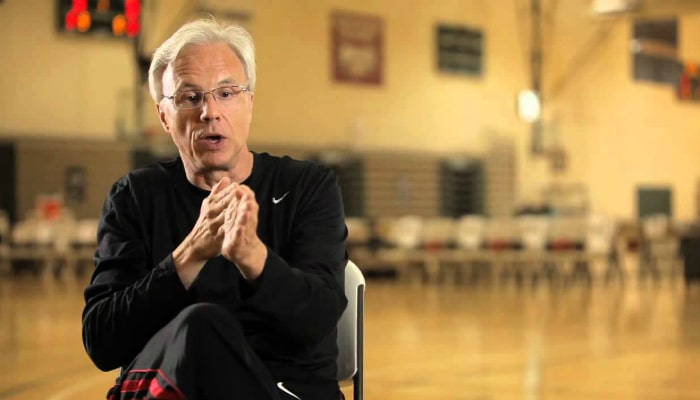 Kevin Eastman is part of the Los Angeles Clippers organization currently but was also with Doc Rivers in his time at Boston. Coach Eastman has been around the game of basketball for a long time and is always finding ways to learn and grow as a coach. He is one of the founders of Coaching U, which helps teach and develop coaches of all levels. These basketball coaching clinic notes are from when he spoke at the 2014 Coaching U Clinic in Indianapolis. Notes were taken by Jacob Collins.
Basketball Coaching Clinic Notes
The reason I became the VP of Operations for the Clippers:
1) Doc asked
2) Doc needed me in that spot
3) It's somebody else's time (to coach in that spot)
4) I love working
2 Themes I Live By
"Success lies in simplicity; confusion lies with sophistication."
"Today is about 2 S's—Sharing and simplicity."


3 Things I do better than most
Big eyes, Big ears, Small mouth
"Take 1 perfect shot 500 times."
"Be there before you get there."
"Be on a mission every day to Seek and Find."

After you have sought and found—"Think and apply."
Sustained thought

Ask yourself 3 questions

How big is your excellence gap?
What do you want to accomplish every day?
What do you want to do with your life?

"If you want to be successful, understand the concept of every day."
4 Goals in Life
Impact others
Lifelong learner (Be a learn it all, not a know it all)
Share it (knowledge/experience/wisdom)
Leave something (Do you want to leave a job or a legacy?)
Accomplish Every Day
Read (he reads 2 hrs. a day)
Think
Plan/Organize
Work Out
Do your job
Family Time
Sleep
15 Things to Move Up
Treat people with respect
Be a learn-it-all
Be a great question asker
Be a meticulous note-taker (and organize them)
Do the unrequired work
Big Eyes, Big Ears, small mouth
No job too big, no job too small
Know what you don't know and learn it
Never pass up a basketball opportunity
Seek wisdom from those that came before you
Read every day
Know when to stop the presses
Do you want a fast climb or a steady climb?
Be there before you get there
Make a total commitment in your life to thinking
What makes you be the best?
Improvement stamina
Development discipline
Greatness Grind—the concept of everyday
Misc Notes
If you want to climb the ladder—have a plan
Success—is smart. The ultimate test is really hard. The ultimate test is failure.
3 things to get through
Mad
Sad
Hard
"Doc only blows up when a player is pissed about something selfish after a win."
 4 keys to success
Focus
Enthusiasm
Energy
Effort
Actions that are hard to guard
 6 main are
Simultaneous actions
Multiple actions
Boomerang actions
Quick cut game
Driving the closeouts
Back cutting help
Inches=easier
On the help, drive the help, right at the rim.
2 types of penetration on catch
1) Shot fake
2) Quick
On floppy action 2 & 3, lock arms and circle around under the basket
"You may know what we are going to do, but they don't know when or how well."
"Want to be a team of execution."
"If you have a child, write them a letter and include in it whatever you think they need to be successful."
All the things they needed to do to be successful
2 copies: 1 for them and 1 for yourself