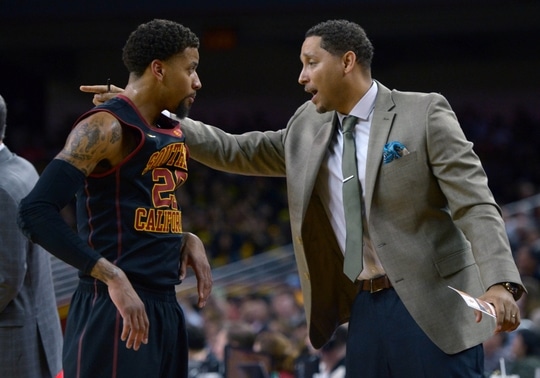 This basketball coaching article was written by Tony Bland.
Leadership
Successful basketball teams and programs are comprised of many different things. Talent always seems to circulate in every successful program, but so does great leadership. The head coach will always set the precedent for leadership within a basketball program. Even with great leadership at the top, the rest of the program's character and leadership qualities are equally important.
The character of the kids you bring into your basketball program must be consistent with leadership. Not everyone is a natural leader or wants the responsibility that comes with it, but will they challenge the precedents set by the leadership in place. In a basketball program, leadership must come from two places; Coaches and Players.
Basketball Coaches
Leadership coming from coaches sounds obvious, right? Every coach is a leader. Unfortunately, that's not the case. We all know that the head coach is the most glaring example in the program concerning leadership, but assistant basketball coaches, in many cases, spend more time with the players.
Everyone wants to be liked, but what examples are you condoning as a basketball coach/leader? Do you joke with your kids about it being cool to miss a class? As a basketball coach, do you show up to practice on time every day? What kind of energy or body language do you have at practice? We all want our kids to provide energy at practice, but as coaches, what kind of "juice" do we have daily? The second we break the example of what is demanded from our kids, the leadership amongst them will take a step back.
Basketball Players
Leadership amongst players is where good basketball teams separate themselves. Coaches can only spend so much time with the players. This is where the character of the kids you bring in is vital! When they are on their own, what kind of message is being spread? Are all of the players commiserating with each other, or do they hear the truth from their peers?
Every successful basketball team has a solid foundation. The players don't tolerate being late, excuses, not working hard, or not being committed to winning. If and when you have this on your basketball team, you can sleep well at night as a coach, knowing what you believe in is being instilled into your guys when you're not around.
Everyone is a Leader
Leadership amongst the coaches and then the players is imperative, but it stretches beyond that too. Team managers play an important role in any basketball program, and the leadership amongst them should be tight. They spend time with the players and need to have the team's best interest in mind when around them.
This should come from someone on staff. The strength coach should also be a leader. Is your team getting after it once they hit the weight room, or do they just get through the workout? He/she should carry out your vision in that regard.
Leadership always starts at the top, but leadership is found throughout if you ever study a successful program. Your mentality and beliefs as a coach should permeate through every division of your program. The saying "You are only as strong as your weakest link" is true in so many ways, whether it be business or sports. The type of people you keep around is important, and everyone must be committed to the same goal.