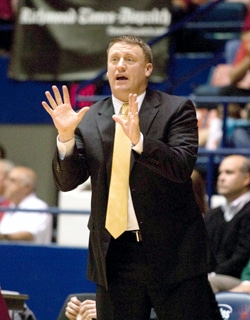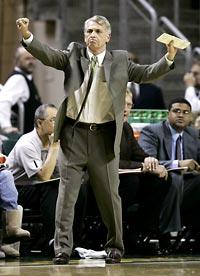 Gordon Chiesa was a longtime NBA assistant coach for the Utah Jazz under Jerry Sloan (89-90 to 04-05). While he was with the Jazz, he was primarily in charge of the Jazz's offensive skill development and game prep for upcoming opponents. During this time, he worked with players like Karl Malone and John Stockton and helped them with their skill development. Along with working for the Jazz, coach Chiesa has worked with the Seattle Supersonics (currently the OKC Thunder) and the Memphis Grizzlies.
Mike Rhoades is a part of the VCU coaching staff under head coach Shaka Smart. This program has had some major success in the last few years, especially during March and the NCAA Tournament. Before joining the VCU coaching staff, Mike was the head coach at Division III college Randolph-Macon. He started as an assistant coach there but eventually took over as the head coach and received multiple coach of the year honors in his time there.
These basketball coaching clinic notes were a team coaching effort by Gordon Chiesa and Mike Rhodes, and it is going to cover the DNA of a winning program. Both coaches have years of basketball coaching experience at different levels and also have a record of being a winning coach. So it makes sense to listen when they are speaking about what goes into building a winning program.
Basketball Coaching Clinic Notes
Are you an instinctive team or a system team?

Want to be able to do both – play instinctively within a system

Get better at fundamentals and execution every day

Execution is a culture, and it is learned

Playing hard team defense is a learned culture
Running, cutting, screening is learned

Passing on time is learned

Without hurt feelings, you will get mixed results

Your voice is your choice – cant get it back

Check your head before you speak

Have an identity as a coach must always get better

VCU philosophy – competitive and hardworking as we can be

Keep understanding how young people think

Great basketball coaches master

Teaching skills without overtalking; if you overteach the players resent you

Organizational skills

Communication skills – talk with them, not at them

Motivational skills

Game crisis skills

Great coaches are world-class listeners

Coaches judged in the last 3 minutes

Great teams have a high level of intelligence, intensity, and late-game poise

Great teachers are wired in about player development

Shaka – greatest strength is the amount of time they spend with the players

Makes the player see you differently than on the floor

Winning players go after loose balls at full speed

Sloan

The discipline of play – upbeat

Teach players the game in real-time, not too far ahead or behind, play in the moment with true confidence

HAVOC

Play fast

Work fast

Comfortable for us, uncomfortable for everyone else

The separator of great coaches – great coaches get players to play hard all of the time

Be intense but not crazed

Once you accept your role, your role always expands

3 keys to winning on the road

Limit live to's

Develop consistent 3rd scorer

Bench pts, reb, deflections, dagger 3's

Winning is a game of aggression and poise

Who is your comeback team?/ pressing team?

Must have a measurement in your basketball workouts with a proper plan

OT in practice – take the player that made the shot to send to OT and put them on the other team

Do they play forward or backward?

Good to great

Need a plan

Do players know what to do and how to execute it

Don't shoot angry in a game, shoot with team rhythm

Shoot with your head on straight

Practice finishing organized off-balance – tony parker

The better the defense is, the less you will be on balance

Help the helper

Bigs in correct pick and roll coverage win the respect of their teammates

"Its always cloudy in the gym"

Expect the unexpected

ALWAYS BE WORKING ON AND TWEAKING YOUR MISSION STATEMENT

Tell what you can give and what you will provide the school

Ask people who've been there before

Mock interview – never know what will be there

Presentation on how you will play

Know the school

Leave the committee with 4 or 5 words that define you at the end of the interview