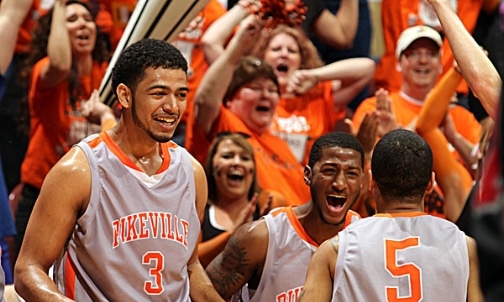 This basketball coaching article was written by University of  Pikeville assistant coach Tigh Compton. Coach Compton was a part of the 2011 NAIA Division 1 National Championship that the Pikeville program won. He is very qualified to talk about winning in the postseason and the steps that lead up to those moments and opportunities. 
Having your basketball team in a position to chase a championship as the season winds down is all any coach can ask for. Sure, the hours spent watching film, perfecting your scouting report, and the extra time spent in the gym making sure your players are getting the work they need down the stretch can really add up, but there is nothing better than the reward. Any basketball coach will tell you that the reward for helping your team be in a position to win a championship, whether it is a regular season, conference tournament, or national championship, is more than worth it!
Daily Commitment
Our head coach at the University of Pikeville, 2011 NAIA National Coach of the Year Kelly Wells, constantly reminds our players and staff to approach each game as if it were a "One Game Championship." Those three words have not been erased from our locker room whiteboard in months. As we battled night in and night out to maintain our lead in the always-tough Mid-South Conference, our players took pride in showing up every single day to compete for a one-day championship.
The concept of  "One Day Championships" is nothing new. Every day, basketball coaches have to be creative in finding ways to get their players to compete and improve daily. It is easy for players and coaches to lose focus now and again over the course of a long season, but the teams that can find ways to limit that lack of focus, and prepare each day like it is the most important day of the season, are the teams that will be playing deep into March.
Respect Every Opponent
It is no easy task convincing your basketball players to look at every game as if their championship season depends solely on that particular game, no matter the opponent. Whether your opponent is one of the top teams in your league or one of the bottom, it should not matter.  CHAMPIONSHIP teams approach each opponent with the same amount of focus and respect. They realize that to end the season on top, they must take care of the task at hand. No looking ahead, no looking back. Playing in the present and taking care of the task that is in front of them.
Basketball Team Goals
The constant talk of championships and team success also helps in the locker room. By constantly reminding our players of their team goals and the necessary steps we must take to reach those goals, we hear more "WE" talk and less "ME" talk. Players and coaches alike become so consumed in winning each "One Game Championship" that personal agendas take a backseat, and it becomes all about the TEAM.
One Game Championships in Basketball Conclusion
As your regular season winds down and you look for ways to motivate your team heading into the postseason, challenge them with "One Game Championships." Whether it is improving every day in practice or winning three games in four days, keep your basketball players motivated, engaged, hungry for success, and focused on reaching team goals by helping them focus on the task at hand. No looking ahead, no looking back. Only playing in the present.