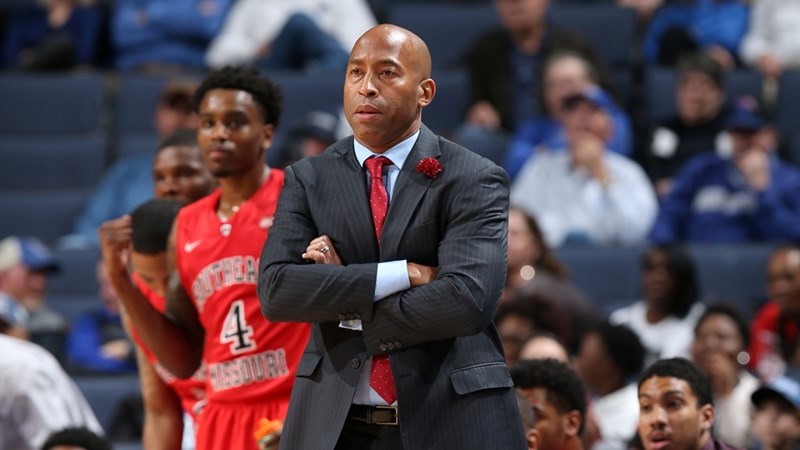 These basketball coaching clinic notes are from the 2016 Rising Coaches Elite Clinic Notes when Southeast Missouri State head coach Rick Ray spoke. Coach Ray has been with the Redhawks since the spring of 2015, and before that was with Mississippi State. These notes will cover various topics on college basketball coaching and provide some valuable insight for both current and aspiring college basketball coaches.
Basketball Coaching Clinic Notes
#1 thing you must ask yourself is "WHY."

Without your "WHY," you won't get very far.

Quote: "Life's most persistent and urgent question is, 'What are you doing for others?'" – MLK Jr.
I want to help young men.

As a basketball coach, your greatest passion should be helping others.
Coaching is a servant leader position.
All the best coaches are also the best at helping others.

There's a stress level of the job… you CANNOT bring that stress home to your family.

Keep the job stresses at the office and enjoy your family, don't bring it home.

You must make a sacrifice if you want to get in.

Nothing worth having ever came without some sacrifice.

The best job to get into this business is a D2 Graduate Assistant because you have to do everything for the program.

You will get to learn every part of the college coaching spectrum because you don't have a choice. It will be solely up to you to handle different responsibilities.

Your job is to develop men… once you do that, you can coach.
Your spouse has to understand your job.

Your family and commitment to your job has to be complete.

Patience is truly a virtue. Embrace the process.
Confidentiality is the most important thing when working with search firms and when up for any job.

Keep your mouth shut.
Do you want to be just "mentioned" for a job or actually get the job?

Your most important job interview is the one you currently have daily.

You have to be a no-brainer for your Head Coach to bump you up or move you with him to his next job… simple as that.

Know what job you are going for and what the Head Coach wants.
If I don't know you, or someone I really trust doesn't know you, I won't hire you.
Don't have people call that won't help you for a job.

Listen to what the Head Coach says he wants.

Don't make more work than what's needed for him.

Make sure your references are speaking well of you.
Tell the truth.

People will respect it even if they don't want to hear it.
Having integrity is the #1 attribute I ask about when hiring a person.

I like being around smart and good personalities.
When watching a game… are you working or networking?

Watch the games and figure out if they can play for your Head Coach.

Don't cheat on your wife, taxes, and recruiting.
Don't waste time recruiting… Know when to pull out and when to chop people.
I have read everything about Greg Popovich.
You can have discipline if you have relationships.
This profession is too secretive.

We have the resources to figure it out anyway, so help one another.

Talk to people you trust ALL THE TIME.