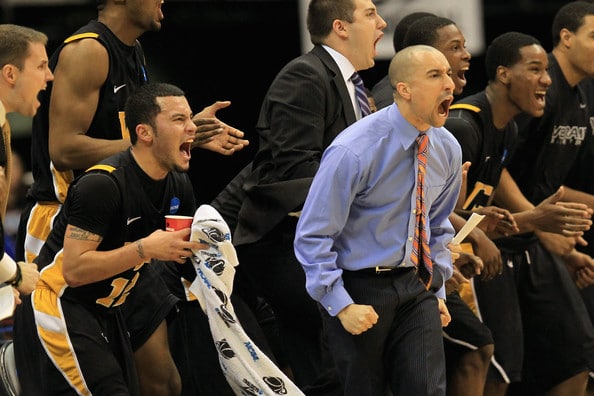 These clinic notes are from when Shaka Smart spoke at the 2014 Coaching U Basketball Clinic in Indianapolis, IN. Coach Smart is the head men's basketball coach at VCU and is considered one of the country's top college basketball coaches. Previous to coaching VCU, Shaka has also held coaching positions at the following schools; Florida, Clemson, Akron, and Dayton. These basketball coaching clinic notes will cover Coach Smart's defensive system and a few other thoughts on coaching. The notes were taken by Jacob Collins.
Basketball Coaching Clinic Notes
Shaka Smart: "Culture of Havoc"
3 Book suggestions:
Know yourself as a Coach – Denny Kuiper
Mindset – Carol Dweck
Help the Helper – Kevin Pritchard
All coaches should research Jack Clark – Rugby Coach at Cal-Berkeley
Patriots sign in the locker room – "We don't become you, you become us."
How?
Constantly teach what we do to the smallest detail
Constantly reinforce what we do
Constantly provide the answers to the tests


Freshman Orientation
Twice a week in the summer that provides some of "the answers to the test"
 Every day we_____________________?—Ask yourself what we do
What do you do every day?
At VCU, they work on transitions EVERY DAY
Goal: best in the country at transitions
Older players teaching younger players how it is done
In practice, transition getting water into getting in a huddle
Combine things in basketball drills
Core Values
Appreciation—see every opportunity as a gift

Appreciation to entitlement ratio

Enthusiasm—passionate and excited about our process for success
Competitiveness—aggressively pursue greatness
Teamship—we fully commit to aligning ourselves with the team

Goals are all team endeavors

Accountability—we are responsible for our team and ourselves
3 types of Accountability
Coach/player holds themselves accountable
Players hold each other accountable
Need to:
Coaches must expose any hypocrisy in the program
"If it were natural to be a champion, it would happen a lot."
Havoc – mentality to the way that we approach the game
Fullcourt pressure defense
Halfcourt pressure defense
Halfcourt offense—ATTACK!!
Relentless attack at the offensive glass
Always want to be the aggressor
2 types of pressure defense (VCU utilizes both)

Matchup and pressure ball and deny
Trap
Why?
Element of surprise (trapping v. not trapping)
Want to keep the pressure on
"That which gets measured gets done."
If it's a good trap, the result will normally be good
Bad traps will KILL you
Have to deal with disadvantaged situations if you are pressing
Need to be good at "Fix-It" situations
Transition rules apply

1) Basket
2) Ball
3) Ball side

Not worried about mismatch
The most important pass to deny is the entry pass
No elbow catches
Wants to take a team out of their offense
Rarely will teams hit backdoor w/o entry pass
Reasons why we press
Turnovers
Force quick and bad shots
Create offensive opportunities for ourselves
Force tempo
Disrupt flow
Make opposing players do things they are uncomfortable with
Difficult to prepare for
Create fatigue
Make depth a factor
Exciting for fans/players/recruits
Identity
Pressing Notes
Not a question of if you get fatigued, but what you do when you are fatigued
Who gets tired first? Who recovers fastest?
VCU wants to play players 6-11 significant minutes
Who's 6-11 is better?
The perfect team to play with is a team with no great players (this style)
Pressing emphasis
Energy—setting expectation is 1st step in getting them to achieve it

Caveat—fouling negates hustle
Energy from game to game is up and down

Communication—Talking makes you quicker
Transitions
Deflections
1st to the floor
Pressure
Stunting
Back pressure
Outnumbered situations
Defending multiple positions
Fix-it situations
Trapping Situations
Lane to lane—middle tunnel (no trap here)
Trap When

The ball handler is out of control
Ball out of the middle

 Favorable defensive matchup=1 man trap
Fullcourt 1 on 1 – the first day of workouts
Fundamentals of the trap
You have to closeout to the trap
Take up ALL the space
When he pivots away, take that space away
Live dribble = NO ESCAPE
No split/No fouls
You have to force an obvious pass = informs interceptors where to go
Ball above the head = hands above the head
If you foul, foul with lower body
Press Notes
Fist—Fullcourt with no trap
The guy on the ball = madman
Off ball put hammer in ribs
Don't let the ball inbounds
Pressure on the ball
Position = 1/3 position (1/3) from man and the ball)
Stunting = fake with foot and your hand
Work on these things every day
2 ways we trap
The turn

If you see the back of his head, you are gone (the turn)

Force the action

Force the action from the middle
Key—Pressuring the ball
1 Trapping basketball drill a day
1 Pressing rotation every day
Other than that—just working on traps when playing
In scouting focus on: