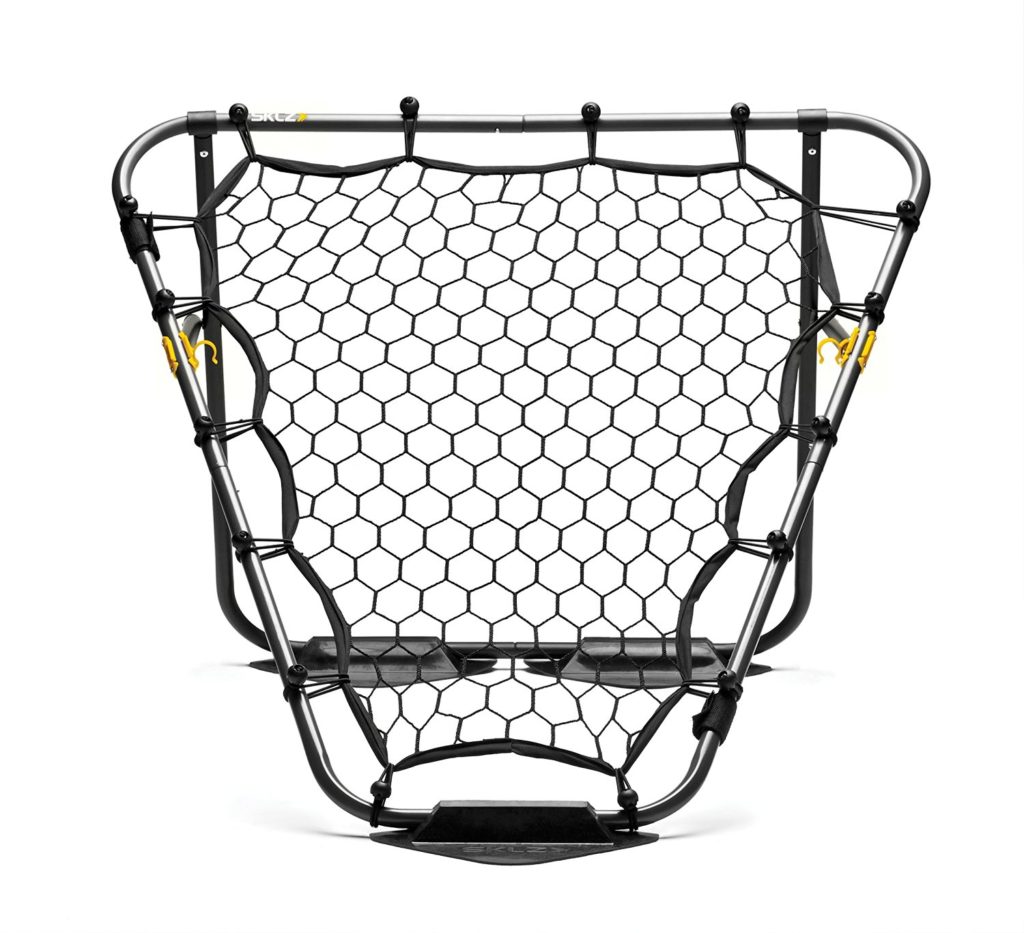 This review was written by Basketball HQ co-founder and skill development trainer Kyle Ohman.
One of the things that I firmly believe in as a trainer, coach, and an ex-professional player is that working smarter is so important to getting better. Having the right tools and understanding make all the difference in the world when it comes to training.
When you get in the gym, you want to give maximum effort, but you also want to get maximum results. The Solo Assist is a tool that will allow you to have an extra passer with you at all times in the gym.
Whether you are a player doing basketball drills on your own, or a coach that needs to focus on more than just being a passer during a workout or practice, the Solo Assist can be that extra pair of hands.
Personal Evaluation
I would never endorse something that I didn't also personally try out myself. Some of the things that I really enjoyed about the Solo Assist was the ability to simulate a ball reversal and either shooting a catch and shoot shot or attacking on the catch. One of the best times to attack is off a ball reversal, so it is important to get many repetitions at this.
Solo Assist Attack on the Catch Drill
The second area I really liked the Solo Assist for is finishing in the post. Using the Solo Assist allows for a post player to basically enter the ball to themselves in the post. Also, the harder the player tosses the ball against the net, the more it turns into a hands drill. You can work on back to the basket finishes as well as dump off finishes.
Solo Assist Shot Fake Hook Finish
There really is no limit to what you can use the Solo Assist for. It allows you access to so many more drills when training on your own or as a team. Here are a couple of other basketball drills that we used the Solo Assist for.
Solo Assist Box Drill
Solo Assist Two Ball Passing Drill
Coaches and Trainers
One of my favorite things about using the Solo Assist as a trainer and coach is that I can focus on coaching players and watching everything that they are doing, rather than just passing. Unless you are at a program that boasts three or four assistant coaches and managers, a lot of the passing responsibilities come down to you.
This means that you cannot observe and coach technique because you are so busy passing the ball to the next person in line. Using the Solo Assist in practice, training, and basketball camp situations frees you up to observe and coach your players rather than just becoming a passer.
Solo Assist Review Conclusion
If you are a coach or player that doesn't always have access to as many passers as you may need or want, the Solo Assist is a no-brainer. You will be able to work on all of the drills shown above but also use it for a ton of other stuff like cutting to finish, curls, transition shots, etc.
To purchase Solo Assist from the SKLZ website, click on the button below.