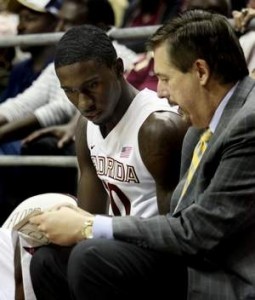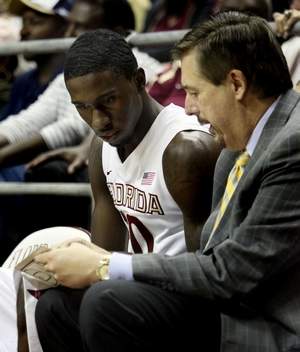 Stan Jones is in his 11th season (12-13) as the associate head coach with the Florida State men's basketball program. Last year he helped the Seminoles to win the ACC championship and have one of the best years in school history. Coach Jones has been around the game of college basketball for a long time and has proven himself a great coach. Here are his basketball coaching clinic notes from the rising coaches basketball clinic in 2010.
Basketball Coaching Clinic Notes
If you do the right things long enough, good things happen.
Every experience helps us grow.
Be consistent.
"The true test of success will be told over time."
Who knows you?
It's not always about "who you know," it could be about who knows you!
Get involved in everything and learn.
Whatever you need to get done, do it at a high level.
Learn something about personal finance! Take time to invest money.
Develop great administrative skills.
Be organized and stay organized.
Get involved with academics.


Be valuable.
When networking, don't just write a letter to people; develop the relationship over time.
Help someone else before you help yourself.
Who can you call to get information? Who can help you do your current job?
Who can help you get jobs?
Get to know people- meet people and get to know them on a personal level.
Always be learning, studying, and reading.
The Power of Who, by Bob Beaudine.
Talks about "working with your friends" and knowing who your friends are.
Make the big-time where you are, by Frosty Westering.
Embrace where you are and make it a winner.
Coaching is teaching! It's a lost art.
Practice teaching with every opportunity you can get.
Be a self-starter. (Find stuff to do, and do it!).
Don't waste favors on jobs you can't get.
When you get an interview, be prepared (over-prepare) thoroughly.
Talk in a position of confidence.
Try to control the interview.
Take it in the direction you want it to go.
Be comfortable- prepare!
Make relationships with the administrators and the news media.
Everyone can either help you or hurt you.
Get to know HS Coaches, AAU Coaches, & retired coaches for their perspective & intel.
To be an assistant:
1) Have loyalty.
2) Be able to recruit (recruiting is sales).
3) Be a self-starter.
4) Teach.
5) Possess people skills.
6) Have great interviewing skills.
7) Be enthusiastic.
8) Know your situation (family, friends, and finances).
9) Have a clean slate in life.
10) Know your negatives.
11) Have a fanatical attention to detail.
Know what your HC is looking for before your scout and even before you start a scout.