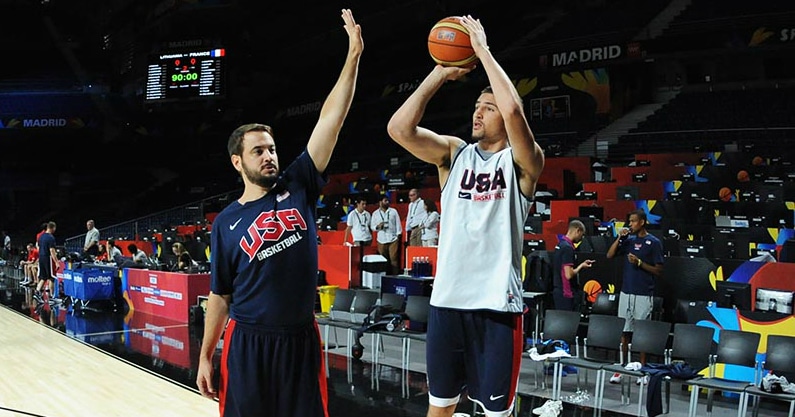 This article was written by the University of Southern California Assistant Coach Chris Capko. 
As a player, you should be watching the game of basketball. Whether it is your level, conference, a level up, or a level down, you should be paying attention to how the game is being played. Each level or league generally has its own style and brand of basketball. Some leagues are more physical, while some are more fast-paced. You need to be big in some leagues, and some you can get away with being a little smaller.
One thing that has become more apparent at any level to win in today's basketball is the ability to shoot the basketball. No matter the position, you become more valuable in today's game if you can help spread the floor by shooting the basketball. Even if you aren't deficient as a shooter and it is one of your strengths, you can always develop and improve.
Regardless of whether it is the offseason or in season, you need to improve your shot regularly. Here are some ways that you can take your shooting to the next level.
5 Shooting Concepts
The best shooters in the game have mastered the details of shooting by first spending the time learning the correct shooting techniques and then putting countless hours into turning them into muscle memory. Here are five concepts that I use with my players at USC to help take their shooting to the next level.
The "L" Drill: Regardless of the shooter, every day starts with the "L" Drill shooting. All we do in this basketball shooting drill is accentuate what I call the "L" in someone's shot. This is a one-handed shooting drill in which we want to emphasize both follow through and arc. I may have our players make anywhere from 100-150 shots right around the basket. This is repeated EVERY DAY.
Guide Hand: The next thing I will generally do is bring the second hand or "guide" hand into the shot. Again, we will do this from a close distance to ensure that the technique is perfect. I make them hold their form up through the result of the shot. They will make anywhere from 50-100 makes at about 1 step further than "L" shooting.
Footwork: We will then begin to get our footwork into the shot. We still will stay inside the paint and make sure the top part of their shot is correct. I teach a 1,2 step into every player's shot. To me, this helps give the player a plan for each shot, as opposed to guessing.
Also, I believe it is an easy transition into a player's triple threat moves. When doing this, you want to ensure that the player is jumping straight up and down, and his/her momentum is taking them to the basket. Do not let your players start walking backward or fade. The principles that you teach for the top part of your shot should remain intact.
Consistent Repetition: Now, regardless of the shooter's level, I will still go to about 15 feet and shoot at about 5-7 different spots on the floor. I like to give each player a goal at each spot. For instance, if a player is very good at 15 feet, the goal is not to miss two shots in a row.
If he/she misses two in a row, the shooting drill starts over. They must make ten shots without missing two in a row. After completing 10 makes from one spot, I like to go right into consecutive shooting and see how many in a row they can complete.
Basketball drills like this force your players to focus on the mechanics you had worked on before you got to 15 feet and the competitor in them generally comes out. If they miss two-in-a-row, you will usually see them get mad and really lock in to end the drill. If they make 10-in-a-row, you will see them want to make eleven now and so on. I will do the same out to the 3-point-line and off of the dribble shooting as well.
Contested Shots: With better shooters, I will make them make shots with a hand in their face yet maintain the same discipline as if they were five feet away. This isn't teaching them to take bad shots in a game, but instead to make shots when the clock is running down or if there is a slightly late defensive closeout and just enough time to get a shot off over the defender's hand.
Conclusion
This skill development basketball article can be applied to both coaches and players. Whether it is a coach looking to develop shooters on their team, or a player looking to improve their own shot, this article's keys apply to both. The biggest takeaway, though, needs to be staying disciplined with the keys offered and then knowing that developing into a high-level shooter is a process. If you are willing to buy into the process, though, you will find yourself shooting a much higher percentage or discover that your team is consistently making shots at a higher rate.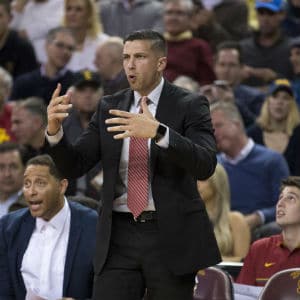 Chris Capko
University of Southern California Assistant Men's Basketball Coach
Chris Capko was named an assistant coach for the Trojans in 2016. He has also been an assistant coach at Georgia Southern University, Florida International University, and Stetson University. Along with coaching, Chris Capko also played at the Division 1 level for the University of Southern Florida.